In the spring of 2007, I taught a course entitled

The Secret Life of Coffee

, in which I challenged students to find interesting local coffee shops and report to the entire class about the coffee and the atmosphere. The Massachusetts section of this page includes some of their favorites, in addition to my own.

Bridgewater, Massachusetts is a small college town that has a dozen franchised coffee/donut shops (including two Dunkin Donuts and one Starbucks on the campus of Bridgewater State College) and several independent shops, each with its own character and loyal clientele. Because we are in New England, even the McDonald's has good coffee -- Newman's Own Fair Trade coffee from Vermont Coffee Roasters. Of the twenty or so places to get coffee in this small town, however, one deserves special mention: Rockin' K Cafe on Summer Street (the day-time use of Bogart's tavern -- across from CVS) is operated by the Kunkel family, and is completely committed to excellent, fairly traded coffee. I enjoy some other local shops, but nothing in town tastes better, and we know that the farmers have been treated fairly. Parking is free right behind the shop, and it is now very close to the Bridgewater State College campus. The menu includes all kinds of organic sandwiches and yummy pastries.

Also near the college in Bridgewater is The Better Bean Coffee Company on Central Square, which has good coffee, friendly service, and a pleasant atmosphere. So far, though, no fair-trade or organic coffee; let's work on that! On November 6, 2007, the proprietor of the Better Bean and I are both featured in a brief television news story about coffee prices. Ironically, the story is really about the increase in robusta coffee, which both of us avoid!

We are hoping to make an additional contribution to the coffee scene in Bridgewater with the addition of the Ben Linder Cafe in the new Math and Science Center.

In Boston, the Mary Baker Eddy library is a great refuge -- a place that celebrates ideas. Within the library is the famous Mapparium and a Hall of Ideas. The Mapparium is a 30-foot glass globe that visitors tour from inside (an admission fee is charged). The Hall of Ideas is a high-tech work of art and philosophy, featuring aphorisms from the world's great thinkers. Research and reading space is also available. Such intellectual resources are an ideal setting for Quotes café. It looks something like an ordinary museum cafeteria, but it serves wonderful, healthy food, and organic, fair-trade coffee from Equal Exchange. (I am, by the way, a big fan of aphorisms.)

A new local favorite is the Streetside Cafe in Middleborough, a few miles south of Bridgewater. I recommend it mainly for the atmosphere: it is both a hub for local regulars and a very welcoming spot for new visitors. The cafe serves Boston-roasted Victor coffee and has free wireless internet.

Pie in the Sky in Woods Hole (part of Falmouth, on Cape Cod) serves only 100 percent organic Dean's Beans, along with great food made fresh on the premises. Owner Erik is the first coffee-shop proprietor to seek me out because of this web page. The shop is as good as he told me it would be -- terrific coffee properly prepared and good, healthy food. The shop is tiny, and is located just next to the Steamship Authority docks for Martha's Vineyard.




This is the place that got me to start thinking seriously about coffee shops as a locus of community involvement and identity. In 2006, the first time I visited this shop along Route 1-A in Walpole, I noticed a steady stream of loyal customers at this shop, located virtually in the shadow of a national competitor. Returning in 2008, I could see that the loyalty between customer and shop runs both directions!





When I sent students out looking for coffee shops in early 2007, a student from Lakeville (a bit south of Bridgewater) reported difficulty finding independent shops. We did not know that Lakeville residents Lorraine Carboni and Kristen Scott were already on the case!

When the town built its wonderful new library a couple of years ago, it was not clear what would become of the historic, Carnegie-funded library building across the street. Thanks to the vision of these local women -- who acknowledge getting a lot of help -- the building now houses Somethin's Brewin' -- a beautiful, interesting, and spacious cafe and used book shop. The coffee is excellent, roasted by Kiskadee (see below).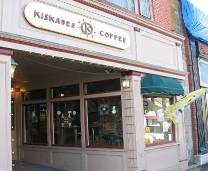 Of all the shops visited by my students, Kiskadee Coffee in Plymouth generated the most enthusiasm. Mikaela (who took this photo) was impressed by the family-owned business with its own roastery, knowledgeable staff, excellent baked goods, and great atmosphere for chatting or study. She visited the main shop at 18 Main Street in Plymouth. A second shop is located on Rte. 53 in Hanover, at Merchant's Row.









I very much enjoy the South Coast area between New Bedford and the Atlantic, and have had the good fortune of attending -- and even speaking at -- a number of events at UMass-Dartmouth. Whenever I am in the area, I stop in at Mirasol's Café on Route 6 in Dartmouth, just a bit north of the campus. This place has it all -- Peruvian pride, Jim's Organic Coffee, a variety of teas, and excellent food for every taste. Prices are very reasonable, the decor splendid, and the owners pay attention to detail, environmental concerns, and justice issues. It even has good Latin American music playing softly at all times, special events, and free wireless. Caution: The coffee is brewed to the correct temperature of about 204 degrees; if you are not used to this, be careful!


Jaho Coffee & Tea -- Salem, Massachusetts

This shop is located near the waterfront in Salem -- an area with much to see and do, including witch-trial heritage but also a lot more. The shop has fair-trade, organic coffee and tea, with great care paid to atmosphere and to the growers. Desserts are wonderful, and not too heavy (though you should probably share them, as we did). The Brazilian Santos coffee was wonderful -- medium roast with very nice flavor. This shop uses ceramic cups for "here" orders. I take this as as an essential sign of care for the coffee. My opinion on this question was confirmed when I got a cup of the very same coffee to go in a paper cup. (Forgot my "go cup" this time.) In paper with a plastic cup, coffee is just not as good. So, go to Jaho, sit in a comfy chair, and enjoy coffee in a civilized cup, as it is meant to be!

For the ultimate Italian cafe experience nothing beats the Caffé Vittoria in Boston. At night, it is both a bar and a cafe; in the morning, it is a very local place where Kenny the barista knows his customers and his coffee. The place stretches across several addresses on Hanover Street, the heart of the North End. It even has a cigar shop in the middle.

The shop has operated since 1929. It is worth a visit, just to explore the old photographs and espresso machines that fill the walls and shelves.





If ever you are in Ellicott City, Maryland, a charming little mill town west of Baltimore, visit

Bean Hollow

, where master roaster Gretchen and "other roaster" Adam and the chipper baristas take pride in some excellent, hand-crafted brews. All of the coffee in the shop is roasted on Wednesday mornings in the 11-pound Probat roaster. Even though it has been in Ellicott City since 1992 and I've been visiting this town frequently since 1983, I never noticed the place until a recent

Wednesday morning!

We were delighted to get a nice roasting lesson from Adam.

I was particularly impressed by the real bagels and by iced coffee that was probably the best iced I've had.




Bean Hollow is at 8059 Main St. (Route 144) in Ellicott City. After our visits, I learned that my father-in-law regularly reads poetry there!



| | |
| --- | --- |
| | The reason I consider coffee shops themselves to be a legitimate subject of geographic interest is that the shops can really help to define a sense of place . Two Rhode Island shops deserve special mention in this respect. One is Cable Car Cinema & Cafe, which is a living lesson on the geography of Providence. Years ago, cable cars connected the hilltop Brown University area with the waterfront. Cable Car Cinema and Cafe at 204 South Main Street (Route 44) is a block from the waterfront and easily accessible from Route I-195. It is in a building that once housed the giant motors that made the cable cars run up and down that hill. It has a espresso bar in the front, with some seating and wi-fi, and an excellent little art-house theater with couches for the audience and live blues before some of the films. Get on the e-mail list to be updated on what is coming to the theater each week. |
| | Coffee and Cream is the site of the largest coffee cup in the United States ! Its hours are limited, so I have not yet managed a visit while the shop is actually open. It is, however, the ultimate marriage of coffee culture and car culture -- a drive-up coffee shop on the highway. |


It was in Nicaragua that I learned of various connections between North Carolina and fair-trade coffee. On a family visit in May 2007, I had a chance to see just how important good coffee -- and fair treatment of the farmers -- has become in this state. To me the most important is one that I have not yet visited: Counter Culture Coffee in Durham, which I actually learned about from a host family in San Ramon, Matagalpa. Some of the other shops I found in 2007 are mentioned below. Counter Culture has also produced a DVD of the 2005 Southeast Regional Barista competition, which shows the ultimate in caring for coffee from the field to the cup! One caveat in North Carolina: many are likely to be closed on Sunday, and perhaps also on Monday.



My North Carolina family roots include Cherokee ancestors, though this connection is about seven generations removed. I was delighted to find a fair-trade coffee shop in a cultural museum right in the center of Cherokee. Coffee in this shop -- Tribal Grounds at Lift Culture House -- meets four certifications: fair-trade, organic, shade-grown,

and

indigenous. The coffee is now roasted on site (though they started out with Counter Culture). The coffee is delicious, as are the bagels. Service is friendly and the atmosphere quite nice. WiFi is available, although a fee is charged. Most other shops in the region have free WiFi, so this might chnage. My daughter had the orange cream smoothie (with mango), which she recommends heartily!

The small city of Waynesville has a number of excellent coffee shops. I was especially interested in The Coffee Zone at 76 Waynesville Plaza, in a former bank branch located in front of a strip mall. About half the customers get their locally-roasted coffee through the former drive-up teller window, while the other half come in to enjoy the simple but comfortable ambience, conversation, and free wireless internet. The coffee here is excellent.

Smoky Mountain Coffee Roasters on Main Street in Waynesville was closed during much of our weekend visit, but we had its excellent coffee in a couple of other shops in the region. The coffee is fair trade and/or organic, and this one shop is responsible for much of the excellent coffee sold in Waynesville and nearby towns.

Asheville is a much more interesting place than the city I remember visiting as a child. The downtown is exactly what a downtown should be: a place with a variety of shops, restaurants, and people walking about. The best coffee shop we found is Malaprop's Cafe at 55 Haywood Street. For those who are tired of big-chain book stores, big-chain coffee shops , and the corporate music, this is a trifecta: a nice book store with an independent coffee shop and frequent live performances by local musicians.




I especially recommend Annie's Naturally Bakery on Main Street in Sylva. The staff is friendly and knowledgeable. The coffee is fairly traded, organic, and delicious. The baked goods are fabulous -- I had a very tasty bagel!

The atmosphere is comfortable and the shop more spacious than most specialty coffee shops I have visited. Best of all, being located on Main Street, it is in the middle of a very nice, walkable downtown with many interesting shops to visit.

The shop also sells an interesting assortment of wines.





In Gorham we enjoyed fair-trade coffee from Kaffé Magnum Opus and pancakes at the

Moonbeam Cafe

at 19 Exchange Street, near the train museum at the south end of the Main Street. It is a small coffee shop with a full breakfast menu and a devoted clientele . If you get there and the place is full (very likely on a summer weekend), leave your name and go browsing in the book store across the street or other nearby shops.


Vermont is heroically loyal to local businesses, making it a good place to find independent cafes.

Vermont is home to Green Mountain Coffee Roasters, making it possible to get a decent cup of coffee at any of hundreds of gas stations throughout the state. Green Mountain sells a variety of coffees -- even flavored coffee, which I can no longer tolerate. It is steadily increasing its organic and fair-trade offerings, which is why I met a GMCR delegation in Matagalpa in 2007. Thanks to GMCR, if I am somewhere in New York or New England with no independent coffee shop in sight, I have a new refuge (since I no longer drink Dunkin' Donuts). All McDonald's in the region sell Newman's Own organic, fair-trade coffee, roasted in Vermont! This one contract has increased the fair-trade component of Green Mountain's business from 30 percent to 38 percent.

I was especially delighted to find Rainbow Sweets in Marshfield , where owners Patricia Halloran and William Tecosky provide an absolutely delightful atmosphere and delicious, European-style pastries of all kinds, along with empanadas, quiche, pizza, and more. They serve espresso drinks made with Peet's and Fairwinds coffee by the cup. The coffee is not the focus of this shop, but the Fairwinds is fairly-traded and good. Peet's, though not fair-trade, is excellent coffee. If you find this shop -- on U.S. Route 2 just a bit west of the village of Marshfield -- be prepared to enjoy Bill's energetic banter!


As with the California entry below, my first Michigan entry is for a shop I have not yet visited. This shop is so interesting, though, that I might just make the trip before long. I learned about the Front Porch Community Cafe in Ellsworth from NPR. As a deep recession was closing a lot of businesses, the only place to get a cup of coffee in Ellsworth was a bait shop. Understanding the role of cafes in community cohesion, local people organized a non-profit place for people to gather over good food and coffee. I am pleased to see fair-trade coffee and tea are on the menu!




I have not been to California since I developed my coffee obsession, but a shop that deserves special mention is Barefoot Coffee Roasters in Santa Clara. Judging solely from the web site, its staff has an unparalleled dedication to coffee perfection. I hope to have a cup there some time!




As with California, I do not yet have any direct experience with good coffee in Canada, but I can recommend Planet Bean Coffee in Guelph, Ontario on the basis of this article in Fresh Cup magazine. The author is my friend Matt Kadey, whom I first met in Nicaragua's coffeelands in 2007, and who described our encounter in an article on coffee ecotourism in the same magazine.









In Brazil, international chains are emerging and competing in much the same way that Starbucks has. Friends introduced me to Havanna -- a chain based in Argentina, named for the Cuban capital, and selling coffee in Brazil, the world's leading coffee producer. See another chain -- petit café -- below.

Despite the new chains, it is still far more common in Brazil to drink coffee casually and in very small cups. This can be in a restaurant, and office, or even a grocery store.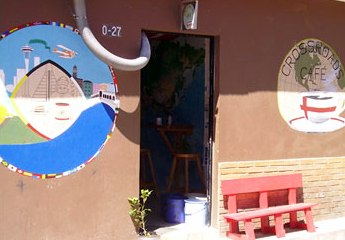 In 2008, my family was invited to Guatemala to learn about the coffee. One of our first stops was the Crossroads Cafe in Panajachel. The Crossroads Cafe is very unusual in the way that it closes the loop between producers and consumers, connecting growers and consumers through the development of expertise in roasting and brewing

in the growing region

. The cafe is aptly named, as this unique model attracts people from just up the mountain and from the other side of the world.









Try as I might, I will never find all of the good, independent coffee shops out there. Fortunately, indie coffee shops is taking care of that for me. If you find yourself in a part of the U.S. where I have not listed a shop above, check out their site. If you find one that would be worth a special trip for me, let me know:

(jhayesboh --AT-- bridgew.edu)








Coffee eye candy:
What a cappuccino should look like.

I took the photograph on the left at

petit café

in Florianópolis in August 2007.
Brazil is known more for coffee quantity than coffee quality, but this is starting to change. This is a fine example, with a biscotto by the side and a glass of clear water to cleanse the pallette.

Those of you looking for the

other

Coffee Eye Candy materials that were formerly in this space, fear not! The sensual corner of this page has grown into the new Coffee & Tea Romance page.


National chains, of course, also compete on atmosphere, quality, and fairness in some interesting ways. Two items on NPR's

Morning Edition

November 26, 2007 discuss the approaches of three of the giants. "Ads Give Dunkin' Donuts National Appeal" compares the target audiences of Dunkin' and Starbucks. "McDonald's to Battle Upscale Coffee Retailers" describes the food chain's consideration of latte, including the possibility of a franchiser backlash. In New England, McDonald's has offered fair trade coffee from GMCR since 2005.

My YouTube Channel on Coffee and Coffee Shops






MORE COFFEE SHOP FUN!


Yelp! is a place to find reviews of local businesses. Look for more of my coffee-shop reviews at jhayesboh.yelp.com, or use the site to find coffee shops or other businesses anywhere in the United States.

Coffee Tycoon is the SimCity of coffee shops. Set up a virtual shop, make decisions about the menu, employees, and accoutrements, and see how you do. I do not have time for online games, so if you play this, let me know what you think!



Do not forget the kids!



Wherever you enjoy your coffee, please remember the farmers -- young and old -- who produce it. On large, corporate farms and on small, family-owned farms, children tend to work more and get less schooling than they should.

Coffee Kids

is an international, non-profit organization established to improve the lives of children and families who live in coffee-growing communities around the world.



Ask your local coffee shop what it is doing to help!



See Dr. Hayes-Bohanan's
Environmental Geography
for more on the world in general.
See Dr. Hayes-Bohanan's
Geography of Coffee
page for more on the farmers, trade, fairness, and travels in coffeelands.
See
Dr. Hayes-Bohanan's
County Map Project
for quirky observations about most of the fifty United States.
See the Department of
Geography
page to find out what the rest of the geographers are up to.