Our smallest state has the biggest name. On official occasions, you will hear people use the entire name.
Although we live close to Boston, we find ourselves just as often in Providence, either enjoying the beautiful public art and music events known as Waterfire , enjoying an art film and capuccino at the Cable Car Cinema , or both.
We also enjoy the mansions and cliffwalk in Newport. I heard fantastic stories about these mansions in elementary school, and was thrilled to learn that they are true - or at least they are still repeated!
The following very geographic piece appeared in the November 2002 issue of Yankee magazine:

The Rhode Island Unit of Measure

When an iceberg broke off from Antarctica last spring, Rhode Island (area: 1,212 square miles) was in the news. The iceberg, known as B-17, was "the size of Rhode Island," said news reports. In fact, icebergs have been leaving Antarctica in Rhode Island-size bites for years. In 1987, for example, there was B-9 -- twice the size of Rhode Island, or 2 RIUs: Rhode Island Units of Measure.

The area of Louisiana's wetlands has shrunk by 1.5 RIU since 1956; Massachusetts has lost 2 RIU of farmland since 1945. Wildfires burn 3.3 RIU of U.S. forests in an average year. When a meteor struck th earth 35 million years ago, it left a 2 RIU crater under Chesapeake Bay -- and deep as the Grand Canyon, but that's another unit of measure.

RIUs are also a convenient geographic shorthand: The city of Houston is 0.5 RIU, Luxembourg is about 1 RIU, Yosemite National Park 1 RIU, Trinidad and Tobago 1.5, Alaska 488. It's a military size, too: The McGregor missile range, the tank training center at Fort Irwin, and the Nevada Test Site are each around 1 RIU.

Rhode Island should be proud-- it's a little state that is the measure of big things. All of which should give Rhode Island a Texas-size ego.

-- Howard Mansfield
So far, I have visited the counties shown in yellow.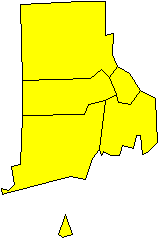 I have been to 5 out of 5 counties in Rhode Island and Providence Plantation.
For a very clear map with the county names, visit Delorme's Rhode Island Counties page.

Return to my home page .