www.biltmore.com
Most of my relatives on my mother's mother's (the Holcombe family) side still live in North Carolina. The family is from the Canton and Waynesville area, near Ashville. My grandmother's family owns a farm on a hill known to the family as Scorpion Knob, but known officially as Poison Cove Top (near the center of this USGS map). Following a fire, the family home was rebuilt and is shown just to the SE of the long pond in the south-central portion of this 1997 aerial photo. The family property includes the entire cleared slope to the north and west of the pond. Although large-scale tourism is relatively new in the area, it has long been a retreat for the extremely wealthy. The Rockefeller family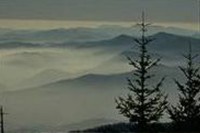 donated land for what is now Great Smokey Mountain National Park, and the Vanderbilt's held thousands of acres as part of the Biltmore estate, now a major tourist destination.
I used to go to North Carolina most summers - either to the western part to visit family or to the eastern part to go to Nags Head (before anybody had heard of that, either). As you can see from the map, at least once we did both in a single trip. I've been back as an adult only a few times, although I have been able to take the whole family to my family's old homestead on Scorpion Knob near Waynesville.

| | |
| --- | --- |
| | My great-grandfather's grandmother was known as a Cherokee "Indian Princess," which of course is a misnomer. I have started to find out more about this part of my heritage, using some of the geneology and history resources at the offical Eastern Cherokee web site and on Native Web. My ancestor would have been born around the time of the infamous Trail of Tears forced exodus, but she was likely part of the Oconaluftee Citizen Cherokees, who were not removed. |
So far, I have visited the counties shown in yellow.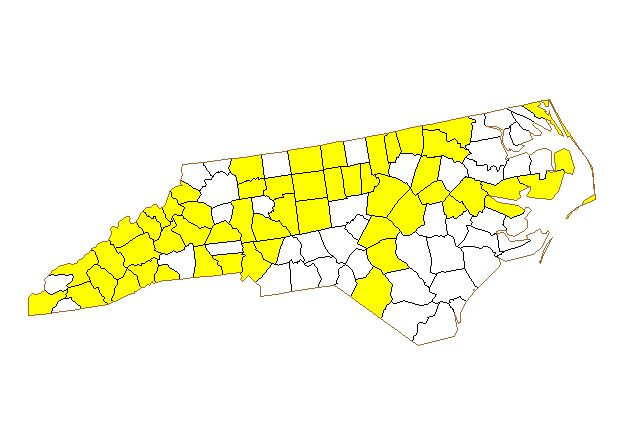 I have been to 53 out of 100 counties in North Carolina.
For a very clear map with the county names, visit Delorme's North Carolina Counties page.

Return to my home page.