My first visit to Michigan was as a high school senior participating in a scholarship competition at Michigan State. I was very interested in computers and linguistics then, and would probably be working on voice synthesis now if I had gotten that scholarship. Glad I didn't, as I have enjoyed everything I did as a result of not entering that program.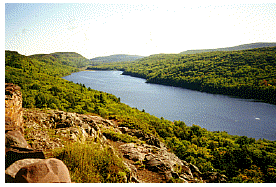 In 1998, we visited my Miami University advisor and his wife at their cabin near Land O'Lakes in the Upper Peninsula. In 2001, we drove across the U.P. twice in a visit to friends and family in Wisconsin and Minnesota. We enjoyed camping, the friendly people, and the beautiful landscapes.
So far, I have visited the counties shown in yellow.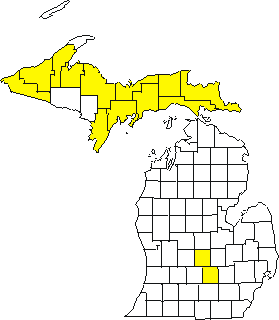 I have been to 14 out of 84 counties in Michigan.
For a very clear map with the county names, visit Delorme's Michigan Counties page.
Do you have a postcard from Michigan? If so, please check out my State Postcard Collection page!

Return to my home page.