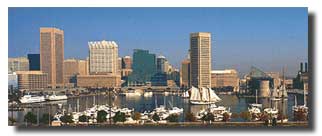 I graduated from high school and college in Maryland, and was married in downtown Baltimore in 1987. It is one of my favorite states, and one of eight states in which I have visited all of the counties. See if you can find the others.
My first residence in Maryland was in Annapolis in the parsonage of Van Buren Street Baptist Church, where my father was the minister in the early 1980s. The parsonage was not on Van Buren Street (in the middle of Annapolis), but rather in Hillsmere Shores, a very nice neighborhood near the Chesapeake Bay. That house is found in this 1996 aerial photograph: it is located in the far southwestern corner of the scene, just to the northwest of the large, L-shaped house. I only lived in this house for a year, because I moved off to college.
I lived in too many other places in Maryland to record them all here, but the longest and last residence was in Catonsville (just outside Baltimore) in Meadow Lane Apartments, which was sort of a Peyton Place for the UMBC campus. The complex was built around the horseshoe drive in the center of this aerial photograph.

Marylanders are proud of the Chesapeake Bay, which was formed at the end of the most recent period of continental glaciation, as sea levels rose and filled the lower half of the Susquehanna River valley. The Bay is less than 200 miles long, but it has 8,000 miles of shoreline. This complex topography is reflected in the biodiversity of coastal and marine life. Marylanders' pride comes from the extraordinary success of efforts to restore the health of the bay, which had been in decline for many years. The Chesapeake Bay Foundation -- with its motto "Save the Bay" -- is the lead organization -- among many -- in the ongoing effort to preserve the vitality of this national treasure. Of course, one reason Marylanders are so eager to protect the bay is that they love crabs. If you are seafood-deprived -- that is, if you live somewhere other than Maryland -- you can now order fresh crab cakes from Olive Grove, a very authentic Maryland restaurant for serious crab lovers!
So far, I have visited the counties shown in yellow.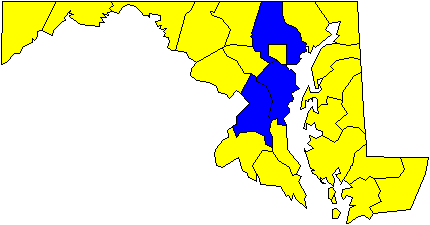 I have been to 24 out of 24 coutnies in Maryland.
For a very clear map with the county names, visit Delorme's Maryland Counties page.

Return to my home page.