One of the great benefits of living in New England is the opportunity to visit Vermont. We have found every place we have visited in the state to be exceedingly beautiful and hospitable.

Since it opened to the public in 1998, the Marsh-Billings National Historical Park in Woodstock has become one of my favorite places to visit. We went as a family shortly after it opened, and I have now returned three times with students in an upper-level natural resources class. The combination of history, landscape, and professional staff make it the ideal place to learn about the meaning of conservation in North America. I have even published an encyclopedia article about this fascinating property.

Another Vermont favorite is the Vermont Country Store in Weston. We had become fans of its incredibly useful catalog before coming to New England. Now we find that one must visit the store to enjoy the complete experience. The Ortin Family Foundation provides incredible leadership in supporting the preservation of rural communities and landscapes.

David Mamet describes central Vermont in his book, South of the Northeast Kingdom . I learned of the book because it mentions Rainbow Sweets, a delightful bakery and coffee shop in Marshfield.



So far, I have visited the counties shown in yellow.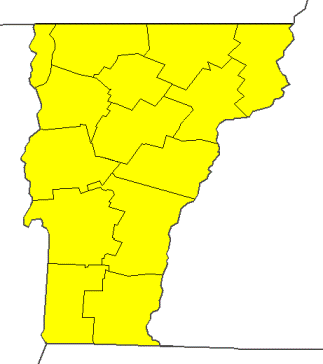 I have been to 14 out of 14 counties in Vermont.

For a very clear map with the county names, visit Delorme's Vermont Counties page.

Return to my home page .