This page presents my recollections and impressions from a joint study tour organized by Bridgewater State College (BSC) and Cape Cod Community College (CCCC), led by Professors Sandra Faiman-Silva and Christine Esperson. The trip was sponsored by BSC's
Office of International and Exchange Programs
, which organizes learning experiences throughout the world for the BSC community.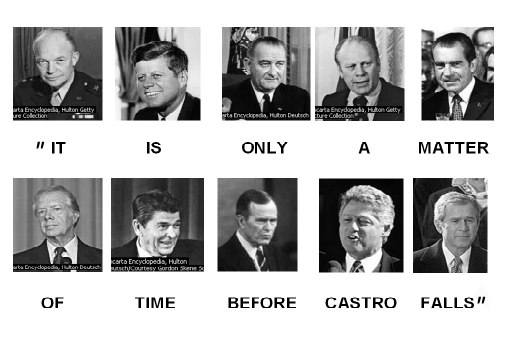 PERHAPS IT IS TIME FOR A DIFFERENT APPROACH


October 2004 News: Even the Cuban exiles in Florida

February 24, Ms. Robin Melavalin (of the Office of International and Exchange Programs), Dr. Faiman-Silva, and I presented a short program on Cuba as part of an exhibit honoring the life of Rep. John Joseph Moakley, who led BSC's first delegation to Cuba in 2001. Robin gave a general overview of Bridgewater's connections to Cuba, I showed some photos, and Sandy gave a presentation entitled "
Bringing Cuba Home: Learning from the Other Side
," which she has kindly allowed me to post on this site. Drawing on both her own analysis and the observations of students who participated, she has created a brief narrative that challenges us to think about Cuba in new ways. CCCC student Jessica Pillsbury is one of the many intriguing young people I had the privilege of getting to know during the trip. Her article
Trip to Cuba
provides some interesting perspectives on our journey.
This page was originally posted for participants in the tour and their families, in order to know where the tour was headed. I am now using the page to share a few of the 500 photogaphs I took, along with some commentary. I also include some photos taken by others in the group, with attribution. As you can see, I found the people friendly, the music irresistable, and the scenery quite amazing. I found some aspects of the Cuban experiment inspiring, and others disturbing. I do not have one summary statement to make about Cuba, but I invite you to see a little of what I saw, and to draw your own conclusions. Better yet, I encourage you to find a way to go. It can be done legally, though it is difficult to do so.

Visit other photo pages for many more photographs and more commentary:

Greta McCrae





Dancing in Lajas, near Cienfuegos


Jennifer Grande


Making a new friend in Old Havana



The view from our hotel in Cienfuegos

| | |
| --- | --- |
| U.S. citizens can travel to Cuba on cultural, educational, and religious missions. | No photo collection of Cuba is complete without at least one classic car! |
See the
Cuba
page at the University of Texas for many academic and cultural links.
Study Tour Map: Western Cuba