County Map Project International
Brazil


James Hayes-Bohanan, Ph.D.

The international section of my County Map Project documents my travels outside the United States at the state or provincial scale.




More Brazil maps and information at


graphicmaps.com
I first became interested in Brazil at the same time I became interested in geography, both through the teaching of Dr. Sandy Parker at UMBC. I learned a lot about the distinctive characteristics of tropical rain forests and the threats to them, and decided that some day I would find a way to get directly involved. I knew that I would not follow directly in Dr. Parker's footsteps, whose research involved spending long periods of time in indigenous and riverine villages.
I did eventually find a way to work on the problem from a different angle, and ultimately completed my dissertation in the Amazonian state of Rondonia, the last territory in Brazil to achieve statehood. I have spent a total of four months on three different visits to Rondonia, and maintain Rondonia Web , an extensive and popular web site about this most interesting place.
I have also made brief visits to Recife, Sao Paulo, and Manaus, as well as many airports throughout the country. In October 2004, I made a very brief visit to Florianopolis, the beautiful island capital of Santa Catarina, which friends had long urged me to visit. On the way home, I finally got to see Rio de Janeiro, and now I see what all the fuss is about! The shorter trips are also described in the Folha da Fronteira section of Rondonia Web.
When I travel to Brazil, I only work with BROL travel . Tell them I sent you, and be sure to ask about Air Pass if you are interested in visiting more than one city. (I have no financial arrangement with BROL whatsoever; I just want them to know how much I appreciate their capable help on all my travel!)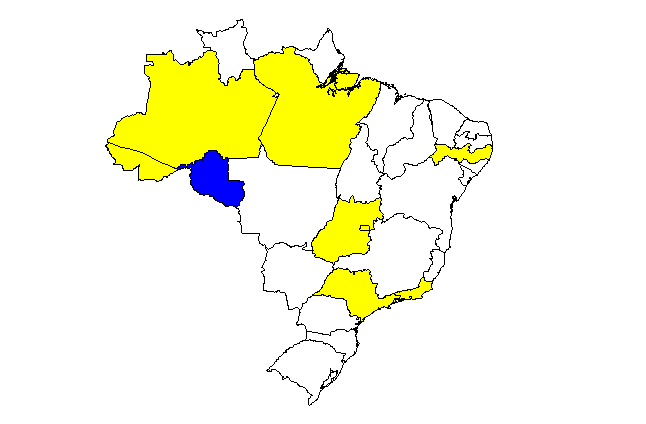 NOTE: The map has not been updated to reflect my wonderful visit to Santa Catarina
(second from the southernmost state) in October 2004.

I have visited 9 of Brazil's 26 states, plus its federal district, but in some of these places, I never left the tarmack!
Return to my home page .