Early in the day, we drove north from the city of Matagalpa -- along a now-familiar route -- to Finca San Luis a large plantation that is a member of ASOCAFEMAT. The contrasts with the small farms we had been visiting were many. It gave us an opportunity to understand a mode of production that is responsible for a large share of the world's coffee.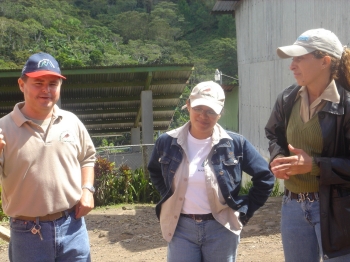 Many of the same processes we had seen by hand are replicated on a much larger scale on this hacienda, where the owner lives in a beautiful home that contains a significant collection of fine paintings. Manager Joaquin Solorzano (left, with blue hat) gave us a detailed tour of the processing plant and answered a number of tough questions about the treatment of workers, particularly related to pay and the minimum age.

The operation includes 250 acres of both sun-grown and shade-grown coffee, but we did not have the opportunity to visit the crops.

This particular farm is a supplier to Starbucks, which means that it must "verify" that it complies with a number of health and safety, environmental, and labor standards that Starbuck insists upon. We learned that "verification" is not nearly as strict as "certification," but that the pressure from Starbucks does have an effect. This particular hacienda has a good reputation for protecting wildlife habitat. The two women shown with the manager are rangers (one volunteer and one employed by the company) with the responsibility of watching for hunting and logging.


One problem with commercial-scale processing operations is the generation of waste, particularly wastewater that is over-nutrified by the sugars in the pulp of the coffee "cherries." At this plant a Dutch organization has installed a biogas process that captures methane from the wastewater. This is already improving water quality in a lagoon that captures wastewater, while providing fuel to cook workers' meals. (One of our astute students learned from this discussion that the workers' rations include beans, rice, and tortillas, but certainly not chicken!)

The operation shown in the photo is an experimental tertiary phase -- also funded by the Dutch group -- that would extract even more nutrients. This process uses plants to extract nutrients not removed in the chemical process. If it is successful (it was not yet when we visited), it will allow fish to be raised in the lagoon that currently receives wastewater.




We had lunch at El Disparado de Potter, a hilltop restaurant named for the eccentric English investor who developed the train route from Matagalpa to the coffee-growing regions of Jinoteca to the north. The restaurant provides a commanding view of several vast valleys.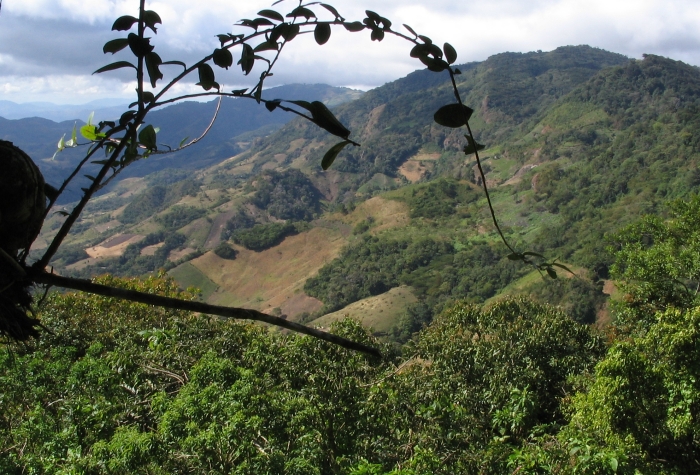 The restaurant also had a great little playground -- er, for the kids!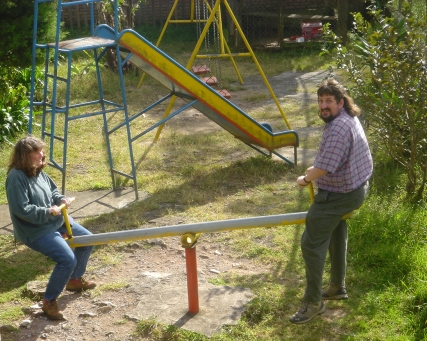 Following lunch, we returned to Matagalpa, where the students enjoyed an hour of what is one of my very favorite activities: wandering the streets of a small Latin American city. While doing so, we had an amazing little experience related to the geography of coffee. I noticed a large shop that had agricultural supplies of various kinds, and soon realized that it was selling chemicals for convential coffee growers. When Pam and I went in to see if we could take photographs, the manager explained that this warehouse served members of a growers' association known as SAGSA DISAGRO, S.A. Just then, a few of our students came by, and the manager insisted that we have a cup of coffee. Although this tasting took place in a room full of the aromas of agricultural chemicals, Kaitlyn and Holly (below, right) say that this was the best coffee of the trip!