After breakfast at Hotel Europeo in Managua, we set off to the coffee heartland of Matagalpa, in the north of the country. It may look like Alex is already back in Massachusetts, but Nica is full of the same convenience stores we have at home! In fact, in the photo at right, taken the next day, it is difficult to find any evidence that the students are in Nicaragua.



Throughout Latin America and the rest of the developing world, it is not uncommon to find people catching rides on trucks. On the road to Matagalpa, though, we saw something I had not seen before: a man riding in a dump truck -- sitting in an office chair!

This particular truck is one of many Russian trucks we saw that dates to the Sandinista period.


"Welcome to Latin America!"
These were my words to the students when we arrived at this crossroads market, about halfway between Managua and Matagalpa. Prior to this, we had of course been in Latin America, but in an urban and suburban setting that resembled home more than the places where we would spend the rest of our journey.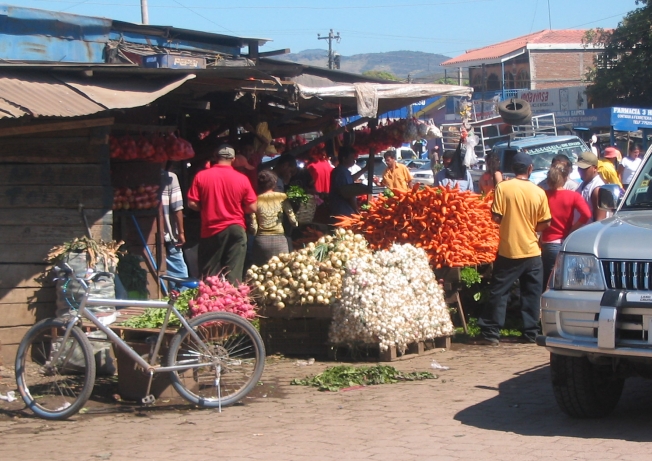 We later learned that this crossroads -- where a major Nicaraguan highway crosses the Pan-American Highway -- was the site of an important protest by coffee farmers in 2002.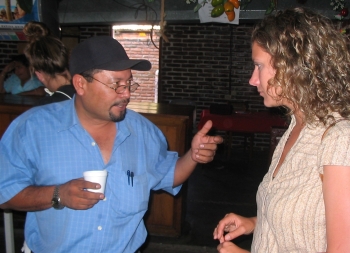 Matagalpa is the name of one of Nicaragua's most important coffee-growing states; it is also the name of the state capital. At our first stop in the city, we were greeted by Jose Selorzano, a Vice President of UNAG, which is the Nicaraguan National Farmers and Ranchers Union. Mr. Selorzano described the general patterns of agriculture in Nicaragua, and how coffee fits into the larger picture. He explained that Germans and North Americans introduced coffee to Nicaragua in 1848.

We also met Felicity Butler, a British woman who works as an organizer for the CECOCAFEN co-op and who helped organize our trip. After a brief introduction to the organization, we went to the coffee museum, which houses a number of interesting exhibits about coffee and about the region, including pre-Columbian artifacts, modern and historic equipment, and murals.

At the museum, Mario Roa of CECOCAFEN explained how he saw the connections between coffee and broader geopolitical issues, including the Iraq war.