Coffee harvest, traditional cooking lessons, forest hike, a visit to hacienda workers in Barrio Nuevo, and farewell dinner with a performance by local youth


Early in the morning, prior to joining the rest of our group, Pam and I joined our host and guide Alejandro for a walk around his family's farm, which includes about three acres of coffee.

It was clear that these farmers -- like most others in La Corona -- thoroughly embrace agroforestry. This is an approach to agriculture that looks messy compared to the neat rows of crops in a typical North American farm field, but that is much better suited to tropical conditions than are monocrops. The idea is to mimic the natural vegetation -- tropical rain forest -- by raising crops and trees in several layers. Large trees can provide shade (thereby conserving water), protection from wind, and perhaps an occasional harvest of nuts or even wood. Shorter trees can provide fruit, more shade and protection of soil. Even smaller trees can provide coffee, or the coffee can be left out in an area where the lowest layer is used for beans, corn, or other row crops.

In the photo to the right, one of the taller trees serves a common purpose for this area -- political poster. Red and black are the colors of the Frente Sandinista para Liberacion Nacional (FSLN, or Sandinistas). This is the party that spearheaded the ouster of Samoza in the 1980s and fought against the U.S.-backed

contras

. Currently, FSLN is a political party, whose leader -- Daniel Ortega -- is seeking a return to the presidency.

Cocoa grows well in the region, though Nicaragua does not have the capacity to make chocolate candy as it is known in the U.S. and Europe. Rather, cocoa is used to flavor a popular regional drink that is based on corn. As Alejandro showed us, the large cocoa seeds can also be enjoyed by sucking on them like a candy.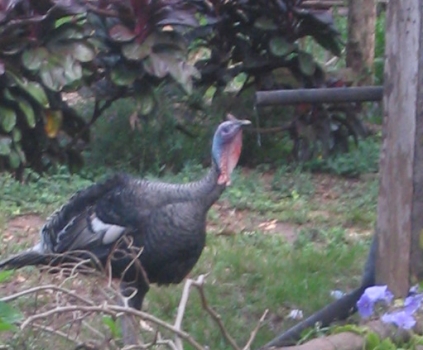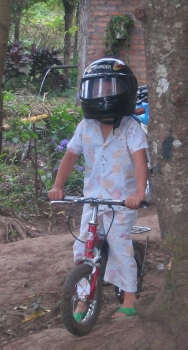 Dona Elsa's household has a turkey with a blue head. This is so unusual that when we mentioned it to one of the cooperative workers, she knew immediately who we were staying with. The turkey is shown here drinking grey water from the kitchen drain. At right is a boy who loved to ride his bike around the house -- and around and around. When his dad arrived on his motorcycle, the boy took advantage of the opportunity to show off the helmet!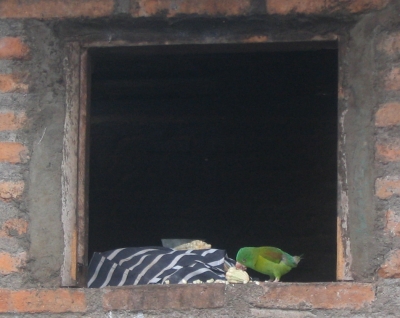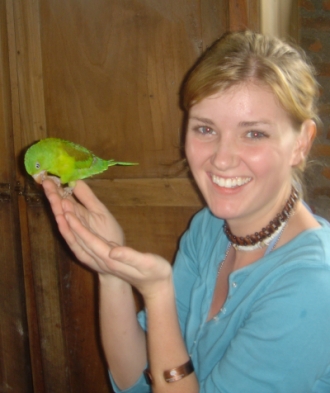 Every household seemed to have a bird! Dona Elso has small parakeet that lives mostly in the windowsill and a talking parrot (not shown). Kaitlyn is posing with a parakeet that became famous in our group. In the household where Casey, Brandon, and Ben stayed, it is the custom to spit on this bird for good luck (we have video to prove it), which Kaitlyn and Casey did after lunch on this day. We later learned that this is not a common tradition in the area, suggesting that the host family had perhaps migrated from another part of the country.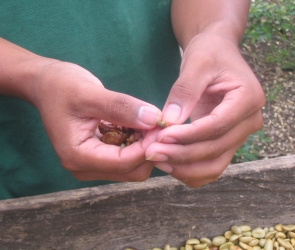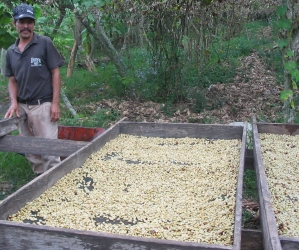 Also at Dona Elsa's house, we observed coffee beans being sorted to remove those with an odd shape or discoloration that would lower the sale price. I assumed that the discarded beans were going to be used for compost, but the cafetalero (coffee farmer) told me that these discarded beans are processed for household use. I can tell report they make fine coffee!


Below, Krystel is enjoying one of the cocoa seeds Pam and I had gotten from Alejandro earlier. She is sitting below a poster in the kitchen of Oscar's family, where she stayed with Amy and Adrienne. Somebody had apparently given the family this poster in the past, but without explaining what it is about. None of the students staying with this family had much formal training in Spanish, but they managed to explain the poster. I was very proud throughout the trip of how hard our students worked to overcome the language barrier.
At right, Alex is taking a photo of me taking a photo of him, as he and Brooks pass by Oscar's house on their way into the community, with an entourage from their host household. It turns out that the "village" of La Corona is linear, with a single road joining a few dozen small farms spread out over about two miles. It was not until the end of our stay that the rest of us realized just how far Brooks, Alex, and their hosts had to walk, just to be part of the group activities. They were all good sports about it.





Finally, the moment I had been waiting for -- the opportunity to pick coffee! When choosing between a January and a March date for the trip, I chose January because we would have the chance to do the harvesting. I thought this would be a good thing, primarily because we would get to experience a little bit of the labor involved. What I did not realize is that the harvest time is also the best time to see most of the other interesting aspects of the bush-to-cup process.