Nicaragua Study Tour: Managua to Matagalpa


James Hayes-Bohanan, Ph.D
Bridgewater State College


Day 5: January 7, 2006

Introductory talk by CECOCAFEN, the Organization of Northern Coffee Cooperatives, followed by travel to the coffee-growing community of La Corona, a farm tour, and introduction to host families






We awoke this morning to see just what a beautiful place our hotel was, overlooking the city of Matagalpa. The views from our room (above) included both pleasing vistas and reminders that not all were so privileged.

We all understood the deep irony of our plush accomodations, given our goal of understanding the reality of poverty among coffee farmers. We also knew that we were about to embark on two days of life without our usual creature comforts, and knowing that we would be coming back to this hotel did help to put the group at ease.

In reality, as readers will soon see, the hardships of the next two days were far smaller than the rewards of getting to know the people and the land of "the campo."






The CECOCAFEN offices also afford a nice view of the city of Matagalpa, which our students enjoyed. Inside the office, we enjoyed a very informative talk by Eddy, a top financial officer of the cooperative.

Eddy has taught in Brazil, and speaks enough Portuguese to recognize that Brooks (the student shown talking to Eddy) and I both speak Portuguese better than we speak Spanish!









From Matagalpa, we journeyed to the community of La Corona, which is in the San Ramon area east of the city. As we waited for lunch preparations, Brandon, Casey, and Alex showed that they were good students -- that is, they went along with their professor's foolish suggestion to act like three monkeys on top of the bus (left photo). In the right photo, they are doing what this entire group enjoyed doing throughout the trip -- getting to know some kids.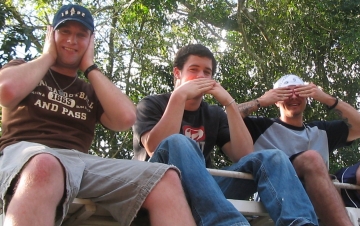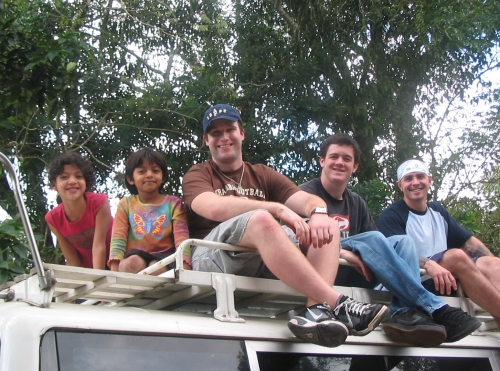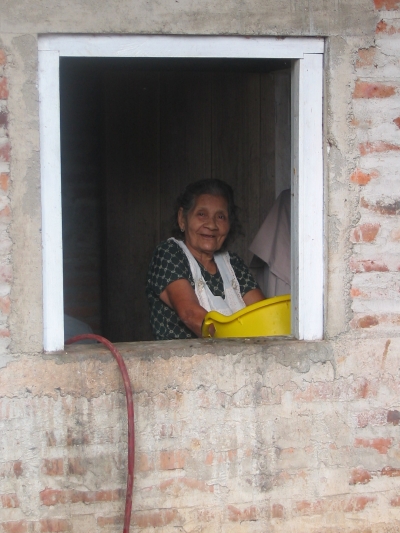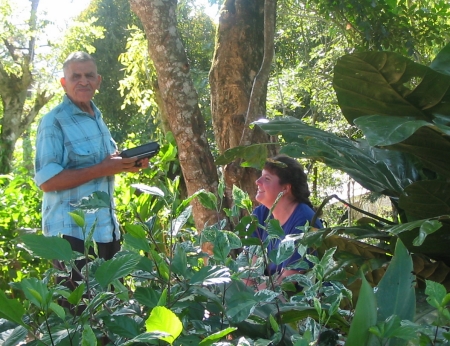 After a very nice lunch and getting to know some of the folks at Mauricio's house, we visited coffee fields for the first time -- an area of shade-grown coffee immediately behind the house where we had eaten. This allowed us to start learning about the cultivation of the plant. A dog is shown leading the way. Notice that the "aisles" between rows of trees are covered with large banana leaves. This both helps to restore nutrients to the soil and helps the farmers to walk in what might be very muddy conditions. These are just a couple of the benefits of shade-grown coffee.We also learned that shade reduces the demand for water, in comparison to sun-grown plantations, by reducing overall evaporation.
The skins of the coffee "cherries" on the tree shown below are red, indicating ripeness. The coffee tree can reach 30 feet or more in height, but is usually kept to about six feet to allow harvesting of all the fruit.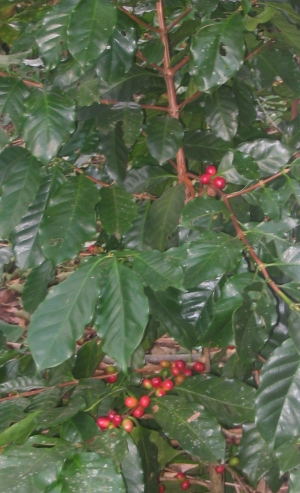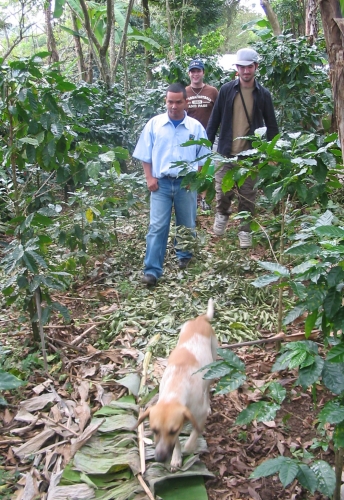 We were able to visit the village of La Corona because it is one of four in which CECOCAFEN has invested some of its development funds into a tourism program. Local families are trained as hosts and provided some minimal improvements (such as filtered water and extra sheets), while local young people are trained as guides and interpreters. Anivel (below, left, with our students) was one of our guides; Mauricio and his family were one of the hosts. Mauricio and I are shown with a small coffee plant. He is one of several people who told me I look like Bicho (Beast), a Nicaraguan professional wrestler!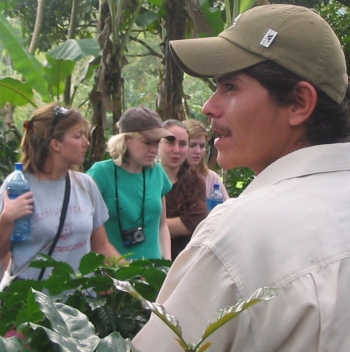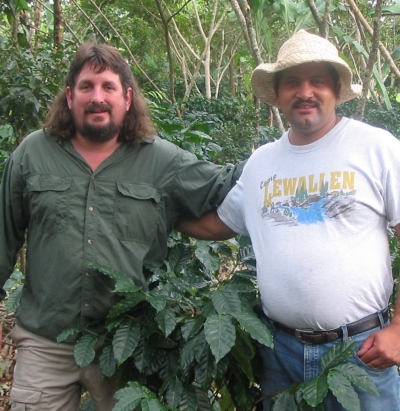 One of the great advantages of fair-trade coffee is that it provides the growers with a lot of the information that would normally only be in the hands of processors and importers. This is why the "cupping" labs in Matagalpa are so very important. (More on that topic later.)

Fair trade also allows customers to make a more direct connection with the growers, which is ultimately the purpose of this entire trip.

Both in Mauricio's house and in the house where Pam and I stayed with Dona Elsa, I found symbolic evidence of these connections. Our house had a label on the front door from Equal Exchange, the company in West Bridgewater, Massachusetts that showed fair trade could be done in the U.S. coffee market -- and that helped me organize this trip. Mauricio and his family are featured in an article I found on ther wall from Counter Culture, another fair trade company.

Following our introduction to the crop, Anivel led members of our group to the homes where we would be staying -- a total of six families hosted us in groups of two or three. Pam and I stayed with Dona Elsa, who showed us a better way to make rice and beans (below, right). Her son Alejandro is another of the community's guides, and is a student of history and geography at the university in Matagalpa. He is shown (below, left) enjoying some time with some of the delightful youngsters in this extended household. We never did learn all of the relationships, but three generations live in several houses that share a small plot of land and a few common amenities.

All of the host homes are identified by agro-ecotourism signs, indicating that the households have received some training and support as part of an educational and economic development program that connects farmers to people who are interested in coffee.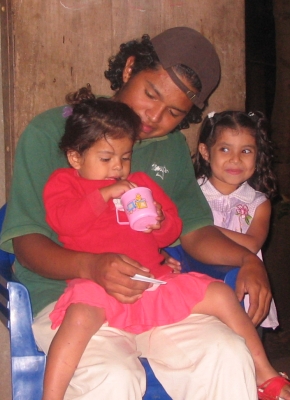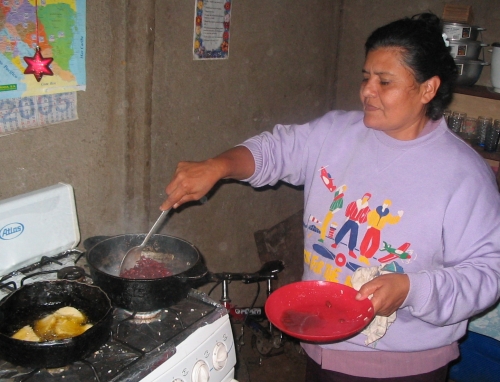 ---
If this page interests you, you may wish to visit my other international travel pages or the international section of my home page.