We lived in the Grand Canyon State for four years, and Tucson is one of our favorite places. Arizona is one of just a few states in which I have visited all of the counties. See if you can find the others.

When we lived in Tucson, we were members of the Arizona-Sonoran Desert Museum, which captures the incredible variety of flora, fauna, and landscapes in the desert and mountains spanning the two states (Arizona, U.S.A. and Sonora, Mexico).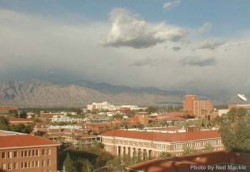 We had two homes in Tucson. The first was in an apartment complex on the eastern edge of the city. In this 1994 aerial photograph, it is in the east-central portion of the image, among a cluster of apartment buildings; ours is just east of the pool and hot tub! The large building in the northwest portion of this image is a Hilton Hotel. Between the apartment and the hotel is the Pantano Wash, which was our favorite place to walk our dog Pablo in those days. The wash itself is empty 99 percent of the time. When it flows, though, it really flows!
It was in the borderlands of Arizona that I first learned about an important aspect of the culture of Mexico: Dia de los Muertos, November 1.
We later moved to the guest house attached to the back of our friend Rod's house. Our place was about 250 square feet - very cozy! It is located near the center of this aerial photograph. A large church building with parking lots can be found in the exact center (using the green arrows on the edge of the photo as a guide). Our house is the smallest of those located directly across the street to the east of the church. With the help of a friend from church who collected cacti, we enjoyed planting a wide variety of desert plants around this house. The last time we visited Tucson, the plants were flourishing!
In Tucson, we were very active in the Unitarian Universalist Church of Tucson, and I was quite active in the Pima County Interfaith Council.

So far, I have visited the counties shown in yellow.

Return to my home page.
YOU KNOW YOU ARE FROM ARIZONA IF ...
You buy salsa by the gallon
You think someone driving while wearing oven mitts is clever
You think six tons of crushed rock makes a beautiful yard
You've signed so many petitions to recall governors that you can't remember the name of the incumbent
You notice your car overheating before you drive it
You no longer associate bridges (or rivers) with water
You can say 115 degrees without fainting
Vehicles with open windows have the right-of-way in the summer
People break out coats when the temperature drops below 70 (amazing the first time you see it!)
You discover in July that it only takes two fingers to drive your car
You notice the best parking place is determined by shade instead of distance (I've actually seen people line up behind the shade of a telephone pole while waiting for a bus!)
The water from the cold water tap is the same temperature as the hot one
You can (correctly) pronounce: Saguaro, Tempe, Gila Bend, San Xavier, Canyon de Chelly, Mogollon Rim, Cholla and Ajo