Tucson, Arizona
For our first couple years in Tucson, we lived in what I would call a luxury apartment complex. We could afford to do so for two reason. First, real estate had been dramatically overbuilt in the pyramid schemes associated with the 1980s savings and loan crisis in Arizona. Second and more important, the apartments catered to "snowbirds," retirees who lived part-time in Tucson and part-time in cooler climes. These folks paid higher rents when they were in town, and the apartment company offered lower rents to year-rounders so that they would have some continuity of income through the hot summers.
Our apartment building is shown in the 1994 aerial photograph below (our second home is shown in another photo below that). It is in the east-central portion of the image, among a cluster of apartment buildings; ours is just east of the pool and hot tub! The large building in the northwest portion of this image is a Hilton Hotel. Between the apartment and the hotel is the Pantano Wash, which was our favorite place to walk our dog Pablo in those days. The wash itself is empty 99 percent of the time. When it flows, though, it really flows!
In the photo, notice that some of the buildings have very bright roofs. Highly reflective roofs are an important aspect of energy conservation. Also notice the very long, narrow white structures. These are carports for the apartment complexes - a coveted commodity in such a hot place, where the shade and sun temperatures could differ by 20 or more degrees!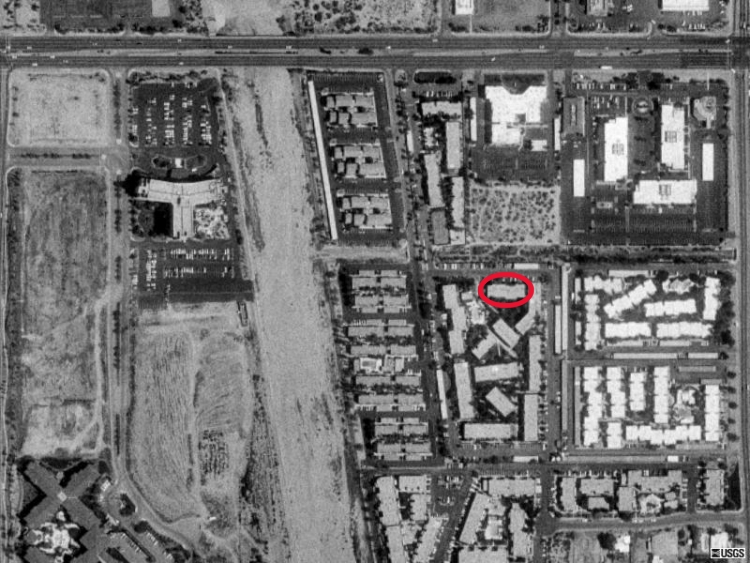 We later moved to the guest house attached to the back of our friend Rod's house. Our place was about 250 square feet - very cozy! It is located near the center of this aerial photograph across from the large church building with parking lots in the exact center. With the help of a friend from my church who collected cacti, we enjoyed planting a wide variety of desert plants around this house. The last time we visited Tucson, the plants were flourishing!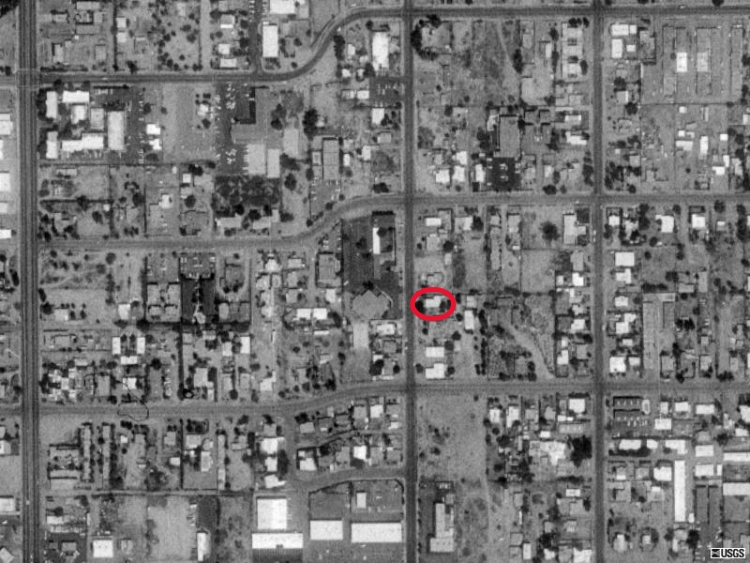 Back to my Arizona page.