We made our first visit to the Granite State in December of 1997 - to visit friends living "in the Hamptons" of the short NH coast. We have since returned for various visits and trips to places even farther north.



We have made an early summer trip to Story Land in Glen, New Hampshire a family tradition. The park is an excellent alternative to that overhyped place in Florida, and it is very affordable by comparison. Not only is the park reasonably priced and enjoyable for young children and their parents, but it also seems to be a very well-run business and a positive force for the economic development of the region. It even has a kennel, so it is just about the only vacation our dog Clover ever gets. The park has excellent food service and is also surrounded by interesting restaurants. Margarita Grill on Route 302 just west of the park provided the best Southwestern cuisine I have had since I left Tucson! We like to stay about a half hour north of the park, at Mount Madison Motel in Gorham. The online reservation is not as seamless as it is with some chains, but this is a very nice, family-run motel that is dog-friendly and has a heated pool. The drive from Glen to Gorham takes you through a beautiful section of the White Mountains, with many opportunities for hiking. Gorham itself is a charming small town, with many dining and lodging options.

We usually have breakfast at Welch's on Main Street, but in summer 2007 the restaurant was closed and for sale. Nearby we found a very special cafe with fair-trade coffee and delicious food.




So far, I have visited the counties shown in yellow.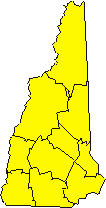 I have been to 10 out of 10 counties in New Hampshire.
For a very clear map with the county names, visit Delorme's New Hampshire Counties page.

Return to my home page .