Where & When
SEQuEL (Southeastern-Massachusetts Quantitative Engagement & Literacy) is a day-long event supporting authentic curriculum, effective and innovative practices, and student success in quantitative literacy across the curriculum. Faculty and staff from the region are invited to attend, present, and share.
Thursday, January 12, 2017,
8:30am - 2:30pm, at
Bridgewater State University
Burnell Hall 132
100 Burrill Avenue
Bridgewater, Massachusetts
Register
Registration has closed for SEQuEL 2017. Please contact Matt Salomone ( msalomone@bridgew.edu ) with questions or requests regarding your registration.
Social Media
The conference hashtag #SEQUEL2017 is open both for announcements, and for your ideas and takeaways, below.
Theme & Program
2017 Meeting Theme:
Dismantling Anxiety and Building from Strength
Math anxiety not only interferes with students' test-taking success; it can also keep students from engaging with quantitative content elsewhere in their coursework and career. SEQuEL 2017 invites proposals and sharing around how to understand and mitigate our students' (and our own!) anxieties around numbers, and locating and building instead on quantitative strengths in the classroom.
Keynote Speaker: Dr. Elizabeth Gunderson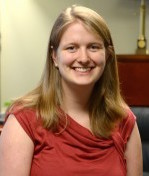 Elizabeth Gunderson, Ph.D., is an Assistant Professor in the Department of Psychology at Temple University. She received her Ph.D. in Developmental Psychology from the University of Chicago in 2012 and her B.A. in Computer Science & Psychology from Yale University in 2005. Dr. Gunderson's research focuses on the cognitive and socio-emotional factors that affect young children's academic achievement, especially in the domain of mathematics. She is currently investigating how teachers' and children's anxieties influence students' math performance; how visuo-spatial skills relate to children's early number knowledge; and how children's beliefs about the malleability of math and reading ability affect their achievement motivation. http://sites.temple.edu/cognitionlearning/