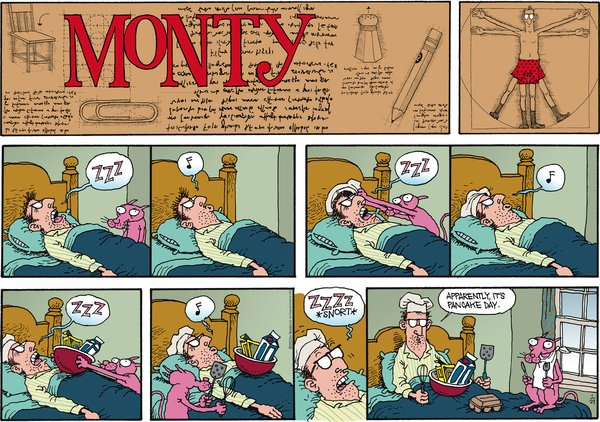 Jim Meddick's Monty, Jan 29, 2012

| | |
| --- | --- |
| SHROVE TUESDAY | Thanks to Cast in Style UK (purveyors of indispensible cast-iron skillets and other cast-iron wares) for letting me know that Shrove Tuesday (known outside Britain and Ireland as Fat Tuesday or Mardi Gras) is also known as Pancake Day -- a chance to use up all the eggs and other goodies in the house before Lent! |
Here -- by popular demand -- is the recipe I use for pancakes. People have always liked my pancakes, but the reviews since I switched to this recipe have been raving enthusiasm. I make pancakes on many Saturday mornings for my wife Pam, our beautiful daughter Paloma, and anybody else who might be in the vicinity. I even take them on the road sometimes, packing up the wet and dry ingredients before setting off to a friend's Vermont cabin or a breakfast meeting here in town.

Paloma used to insist on Mickey Mouse pancakes - one medium circle with two small circles for the ears. All dads should master this technique - a large turner is helpful.

This is not much harder than using Jiffy, and the results are so much better that you will never turn back!

This recipe actually represents an important turning point in my life -- the deepening of my slow food journey. In 1997, my sister-in-law was visiting us in our new home. I had planned to make pancakes, but was out of Jiffy. When I mentioned this, my beloved sister-in-law actually laughed at me. She knew we liked to cook, and could not believe we would need packaged mix to make pancakes. She said, "There must be a pancake recipe in this house." She was correct, and we had all the ingredients for the basic recipe. Over the years, we have ensured that we almost always have ingredients on hand to make a healthy meal, and in fact we usually plan our week's meals each Sunday, to avoid resorting to "box food."


What you need:
(This feeds 3-4 adults; you may need to double or triple for a bigger crowd. See variations below for a healthier and more earth-friendly ingredient list.)

EQUIPMENT
Measuring cups
Measuring spoons
Large bowl
Medium bowl
Whisk (maybe two)
Wooden spoon
Rubber spatula (scraper)
Your indispensible, well-seasoned, cast-iron griddle or skillet (other pans will do, but I cannot guarantee the results)
Gas stove preferred; electric stove if that is all that is available; I'm sure a camp fire would work, too.

DRY
1-1/2 cups all-purpose flour
1 tablespoon granulated sugar
1/4 teaspoon salt
1 teaspoon baking soda
2 teaspoons baking powder
1/4 teaspoon nutmeg

WET
2 eggs
3 tablespoons melted butter (or light oil, such as Canola)
1-1/2 cups buttermilk*
1 teaspoon vanilla (vanilla extract if you are in a pinch)

Plus, butter for cooking
* If buttermilk is not available, stir 1-1/2 teaspoon vinegar into 1-1/2 cups milk, and let stand for 10 minutes while you prepare the other ingredients OR put a large dollop of yogurt in a measuring cup and then fill to 1-1/2 cup line.

Preheat oven to about 200 degrees. A bit hotter is OK. Put a platter (or all the serving plates) into the oven. Also, start warming the syrup, either in the oven or on the stovetop.


In a large bowl, measure dry ingredients carefully, and whisk together. (To measure flour, fluff it, spoon it into measuring cups, and scrape off excess.)

In a small bowl, beat eggs, then blend in the other wet ingredients.

Using a spoon and spatula (rubber scraper), stir wet ingredients into the larger bowl of dry ingredients, mixing enough to combine, but not to remove all lumps.


Optional enhancement: Gently fold in 1/2 cup to 1 cup berries or chopped apples.

Heat the skillet or griddle, then add butter (perhaps with a little canola oil) and melt it. The griddle is hot enough when drops of water will dance on it, but it is too hot if the butter or oil start to smoke. I usually find it necessary to reduce the flame after each round of pancakes, to maintain the optimal temperature.


Use a ladle or large spoon to drop 1/4 to 1/3 cup of batter on to hot griddle. When bubbles cover the top of the pancakes, turn gently. Remove when set, just about 30 seconds. Place pancakes into oven as they are completed.

Serve with real butter and warm pure maple syrup. If you use berries, consider whipping some heavy cream (whisk just a bit of sugar and vanilla into cream in a chilled bowl until stiff) as a topping.
Variations
The original recipe describe above is a bit decadent. Any or all of the following substitutions can be made to improve the nutritional balance of the pancakes, by reducing the simple carbs and fat while increasing the complex carbs and protein. The results are just as flavorful, probably more so. All substitutions are based on a single recipe. If you are doubling or tripling the recipe, don't forget to double or triple

all

of the ingredients.

Sugar:

In place of sugar, I use an equal amount of honey or agave nectar. By the way, in most baking recipes, you can make a similar substitution or reduce the sugar by half without harming flavor. Sometimes flavor is actually enhanced this way.


Oil:

You can substitute canola oil or another light vegetable oil for the butter (both on the griddle and in the wet mix). As much as I love olive oil, I do not recommend it for this recipe. See notes for flax seed and applesauce below.

Flour: I often use whole-wheat flour for 1/2 cup of the 1-1/2 cups required. Any more would result in a heavier pancake, and probably would require adjusting some of the other ingredients.
Oats: I sometimes add 1/4 cup of rolled oats, or a packet of instant oats.

Flax seed:

You can add a two tablespoons of flax seed, in place of the butter. This greatly increases the fiber and enhances the texture.

Applesauce: I often replace the melted butter in the pancakes with 1/4 cup of pure (no added sugar) applesauce. This is a baking trick I learned long ago, and it can be applied to many cake recipes.
Yogurt: I usually place about 3/4 cup fat-free, organic yogurt in the measuring cup, and fill the rest of the way (to 1-1/2 cups) with low-fat or fat-free, organic milk. I think this actually improves the texture of the pancakes.
Eggs: I used to replace one of the eggs with "fake" eggs, to lower the fat and cholesterol content, but I've decided that a few really good local, cage-free, organic eggs each week are better than a lot of processed fake eggs. For some people, however, medical conditions will warrant the substitution.
Buying local:

As fossil fuels become more expensive and climate change becomes a greater concern, it is important to support local and regional agriculture, to help develop sources for food closer to home. In New England, this can include King Arthur flour, Stonyfield yogurt, Garelick milk, honey from a local farm stand, and Cabot butter. It can also include any number of pure maple syrups or fruit preserves for toppings. These toppings are healthier than mass-market "syrups" and jellies that rely for their sweetness on high-fructose corn syrup, which is provided by oil-dependent agribusiness and which contributes to diabetes and other health problems.

Beverages
A tall glass of milk goes well with pancakes. Of course, coffee is almost essential. I highly recommend any fair-trade, organic Central American

arabica

coffee (especially Nicaraguan), roasted to Full City (instead of a very dark roast such as French) to get the smooth, rich flavors that go well with pancakes.

Learn more

Feel free to browse the rest of my environmental geography pages, especially the I-Can-Do page. You may also be interested in my chicken crepe recipe, though at the moment (March 2007) it does not really address the healthy alternatives, or my general page on food.