Bridgewater State College has developed a reputation for good coffee over the past several years, as hundreds of students, faculty, and staff have participated in study tours, seminars, or tasting events. By late 2008, it seemed clear that it was time to start living up to that reputation, in terms of the coffee that we actually consume on campus. Fair trade was available, but only in very limited locations.
In the spring semester, students who had been studying coffee met with Sodexo managers to discuss the current provision of coffee on campus and ways to increase the availability of fair-trade and organic coffee. Those who participated in those conversations learned a lot from each other, and we may even be able to arrange a visit to coffeelands for Sodexo employees in the near future. As of November 2009, fair-trade coffee is being offered in several new locations on campus, with more to come.
A completely fair-trade campus is probably far in our future, as we have long-term arrangements with Dunkin' Donuts, but for now there are plenty of opportunities to increase the fair-trade offerings on campus.
One such opportunity is the café that will be included in the new Science and Math Center. We are proposing that it be built and operated as a model of social and environmental sustainability in coffee -- considering every aspect from the bean to the cup.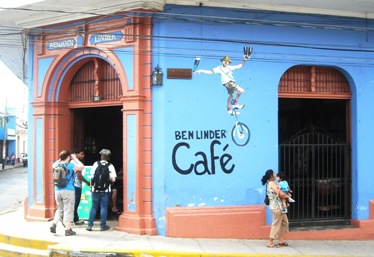 Bridgewater State College students entering the Ben Linder Café in León in January 2009. We are proposing a second Ben Linder for the BSC campus itself.