The Remote Sensing Tutorial sponsored by the Applied Information Sciences Branch at NASA's Goddard Space Flight Center is a comprehensive guide to satellite remote sensing, including processing techniques, satellite descriptions, and summaries of ongoing research.
| | |
| --- | --- |
| | The DIVA-GIS data server is an excellent service hosted by the International Potato Center (CIP) in Lima, Peru. It provides free and easy access to GIS data for all countries of the world, including shapefiles, elevation and land use grids, and gazeteers. |
TSUNAMI VISUALIZATIONS is a compilation of high-quality images and digital models of the Boxing Day tsunami. The collection is compiled by John McDaris at Carleton College.
Yahoo's remote sensing page is a good place to begin any search for remote-sensing resources. Yahoo's GIS page may also be of some use.
Landsat 7 Operations - Information on Landsat 7 operations from NASA. Includes tons of links to other Landsat and remote sensing sites.
The Canada Centre for Remote Sensing (CCRS) is responsible for the reception, processing, archiving and dissemination of remotely sensed data for Canada.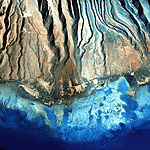 TerraWeb from the United States Geological Survey Field Office in Flagstaff, Arizona includes information about its terrestrial remote sensing projects, including application to a wide variety of real-world problems.
The Lunar and Planetary Laboratory (where my wife Pam used to be a librarian) of the University of Arizona maintains an archive of interesting satellite images of the earth. This is great if you want nice imagery of the earth to include in a general presentation. It includes a lot of "classic" images.

Earth Resources Observation Systems (EROS) Data Center - Receives, processes, and distributes data from National Aeronautics and Space Administration (NASA) Landsat satellites.

The National Weather Association offers a long list of weather satellite imagery.
Rhode Island Graduate School of Oceanography Archive -- provides access to the University of Rhode Island, Graduate School of Oceanography's archive of sea surface temperature satellite images. These images are processed Advanced Very High Resolution Radiometer (AVHRR) data from NOAA satellites. The images depict sea surface temperature.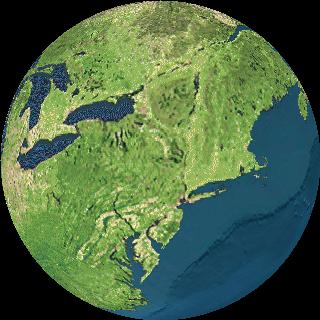 Earth and Moon Viewer - You can view either a map of the Earth showing the day and night regions at this moment, or view the Earth from the Sun, the Moon, the night side of the Earth, above any location on the planet specified by latitude, longitude and altitude, from a satellite in Earth orbit, or above various cities around the globe.
Earth Satellite Corporation (EarthSat) is an international professional services firm specializing in the development and application of remote sensing and geographic information technologies (GIS) for worldwide weather and agricultural forecasts, flood prediction, petroleum, hydrologic and mineral resource exploration, environmental monitoring, and site location.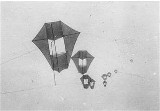 When hydrogen balloon proved to be too risky for aerial work, George R. Lawrence turned to kites. He improved a train of Coyne kites to carry his equipment 2,000ft. in the air. Here, nine kites lift a steel wire. Bamboo keep the lines from tangling. U.S. Navy, 1905. National Archives.