General Resources in Geography
| | |
| --- | --- |
| | About.com is a different kind of web directory. Individual editors are responsible for particular subject areas. The geography section is in the able hands of geographer and author Matt Rosenberg. |

Geography Resources at the web directory N-E-X-U-S is another well-organized geography portal.
The Maxwell Library at Bridgewater State College has prepared a guide to geographic resources in the library both the physical building and the resources that can be used on-line from any campus computer.

For information about careers in geography and related fields, please see the "opportunities" section of our departmental web page .


| | |
| --- | --- |
| | Owen Burek has created this online forum for the discussion of issues related to geography. It is brand new (as of April 2005), so I cannot yet comment on the quality of the discussion, but it seems worth supporting. |
Country Information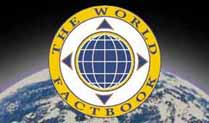 When I was an undergraduate, one of my roommates was a fellow geography major who had a summer job at the Central Intelligence Agency. His job was to develop consistent population estimates for the world's twenty largest cities. This was my first exposure to the geographic work of the CIA. The Fact Book once was an excellent and reasonably objective source of basic information about all the countries of the world. It is a good starting point for research and high-quality maps, but the caution below should now be considered.
CAUTION: On December 18, 2003, the CIA Fact Book was overhauled in a politically-motivated process, in which many of the country histories were rewritten. Virtually all references to historic mistakes by the U.S. were sanitized, and most left-leaning governments are now described in the most pejorative terms. The site can no longer be considered a valid source of historic information, though most of the basic facts are probably still accurate.

As you use the Fact Book, consider these alternative sources:
The BBC maintains country profiles for every country in the world. Each includes a timeline of major events and links to BBC stories about the country.
The NI Country Profiles from New Internationalist magazine include a number of interesting means of comparing countries, such as literacy, status of women, and environmental protection.

Another good source of country-by-country information -- including good, basic maps -- is the Lonely Planet web site.
CountryReports.org provides country information from around the world. It is an excellent resource for business, tourists, students and teachers. It includes both basic data -- such as maps, flags, and national anthem sound files -- and more detailed information and links for all the countries of the world. This site began as E-Conflict World Encyclopedia, whose motto was " Eradicate Conflict by Increasing Cultural Awareness."

Discover the World is a web directory organized by country. It is a simple, elegant site with carefully chosen links in a number of categories, both interesting and practical.




A great geographic paradox is that U.S. is both a very mobile society and a nation of homebodies. The average person moves houses every few years, quite often out of state. This is particularly true during periods of strong economic growth. Many people, however, like where they live, never moving far from home, and perhaps not even visiting other regions during their entire lifetime. Such people know that the United States is large and varied, but probably do not know just how varied it can be in cultural terms. Having been to most regions of the country, I assert that this excellent article ( Beyond Red and Blue ) by Robert David Sullivan is among the best descriptions I have seen of the amazing variety of perspectives that are found in the United States.


America is not


red or blue.


It is mainly purple !
Maps, Images, and Data Layers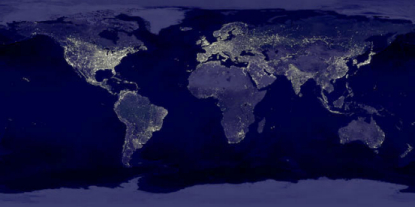 Learn about this Earth at Night image from NASA.




Search over 6,000 images, arranged by location and type of feature. Each is thoroughly documented. The most interesting recent events on the earth's surface are always featured on the main page.

See the American Library Association's Maps and Mapping page, for resources that have been selected by an information expert!

| | |
| --- | --- |
| | I have long known that mapquest.com is one of the best map-generation sites on the web. In March 2000, I learned why: It was founded by Scott Edmonds, who taught me everything I know about cartography, including the fact that I was not cut out to do manual cartography as a career! Professor Edmonds left UMBC shortly after I did to start a commercial cartography company in Columbia, Maryland. That company eventually became part of Mapquest. I always say that the only billionaire I ever met was a geographer. |

The Geography Network is an online resource for finding and sharing geographic content, including maps and data, from many of the world's leading providers. It includes ready-made maps and map databases in ArcView format.

| | |
| --- | --- |
| | MassGIS is the Commonwealth's Office of Geographic and Environmental Information. Whatever one's level of GIS expertise, appropriate mapping resources can be found here, allowing the user to perform environmental and other kind of spatial analysis. |
| | |
| --- | --- |
| | Children Map Their World is an excellent site that presents the work of students throughout the world who have been asked to create their own maps of the world. This includes amazing perspectives on the world - both positive and negative - and some incredible artistry as well. |

Mercator's World is a bi-monthly magazine that examines and celebrates the exploration, discovery, and mapping of Earth and space. Created for map and aficionados, geography buffs, and adventure seekers, Mercator's World focuses on the art, history, culture, and technology of cartography, geography, and exploration.



Maps of the Past

specializes in providing high-quality restorations of historic maps, especially at the county level. This is a valuable resource when the most useful map for a research project (such as geneology or historic geography) is no longer in print or when original maps are unavailable or terribly expensive.


Cartography is not my specialty, but in November 2002, I did present From There to Here: Cartography and the Meeting of Modern Worlds at the Bridgewater State College Renaissance Round Table.



The National Atlas of the United States provides very cool maps related to current events (such as disease outbreaks and invasive species) as well as an archive of ArcView data layers.

Use the Tele Atlas Eagle Geocoder to convert any U.S. address to its geographic coordinates.


is the best source I know for base maps of all the world's countries, as well as cool graphics such as the map at the top of this page. Be sure to visit "the list" of various geographic distinctions (largest, smallest, highest, lowest, etc.).

GlobeXplorer is a bit difficult to use, especially if you have a slow connection, but it is a remarkably rich resource of remotely-sensed imagery, including both satellite images and areal photographs at a variety of scales. This site has become less useful for web browsing, but is an excellent source for buying prints.

| | |
| --- | --- |
| The Perry-Castañeda Library Map Collection at the University of Texas has an extensive collection of maps, most of which are digital scans of its paper map collection. Some of the images are very large; if you have difficulty, see the FAQs for guidance on using them. | |
Microsoft operates Terraserver (with topographic and aerial photograph coverage nationwide) in cooperation with the U.S. Geological Survey , whose National Mapping Information page is a gateway to many useful products, both online and on paper.
The Great Globe Gallery is an English language site hosted in Poland that includes over 200 pages of globes and maps, including projections, interactive map-building programs, and many specialized thematic maps at a global scale. It is a wacky page, but full of interesting maps!

| | |
| --- | --- |
| The Map and Geography page at National Geographic Society includes information on the art and science of cartography, as well as an inventory of static maps and a dynamic map engine (Map Machine) that can generate maps of the world or any part of it on a variety of themes. Spend some time learning how to use this map machine, and you may find you can create the map you need for your next project! The "printable map" feature allows the user to create a *.gif file that could be manipulated further in a paint program. Click on the map to the right for an example that I created rather quickly. | |
Geographic Education
The Geography Discipline Network provides a forum for discussion of the improvement of geographic education in higher education, including international education and the use of the web in geographic education.


Geographical is an excellent geography magazine and portal hosted in the United Kingdom.
What is geography, you ask? See how various dictionaries and geographers have answered the question on the Definitions of Geography page.



This company has great products

and

great staff for providing geographic educational events for students of all ages. Whether it is an 11 x 14-foot map of the United States, or a 20-foot globe balloon, the Whereabouts company can create a exciting temporary classroom. I have actually been inside the globe with a group of second graders, and I can vouch for their enthusiasm and the educational value of the experience. The geographer who accompanies the globe has a variety of age-appropriate lessons that fit well with national frameworks in geography.


Interactive, educational geography games created by students.

| | |
| --- | --- |
| | Our department is active in the Massachusetts Geographic Alliance , which is dedicated to the improvement of geographic education in the Commonwealth. Our own Dr. Vernon Domingo maintains this page. |
| | |
| --- | --- |
| YOUR-NATION.COM combines a very sophisticated interface with an authoritative database to make entertaining and educational comparisons between countries and/or continents. | |
A wonderful model for web enhanced geographic education is a class project from Simon Frasier University in Vancouver, British Columbia, Canada. The project, entitled A Strategic Concept Plan for A Model Sustainable Community in South-East False Creek , incorporates many human and physical geographic dimensions in a integrated recommendation for the sustainable development of a parcel of land in Vancouver. The project includes multiple bibliographies on topics ranging from land preservation to air quality.

This site, My Wonderful World, is National Geographic's effort (with the support of a lot of partners) to foster geographic literacy in the United States. The effort is much needed, says this geography professor!

Public education is under attack at all levels and Home-Give Kids Good Schools is a place for people to push back. When I was a kid, the grownups paid for school, and I studied. Now we underfund schools and make kids sell candy to make up part of the difference. This is not how to go about keeping a great nation. Patriotism means dedicating resources to the future good of the country (not just slapping a flag on one's SUV). This site is a patriotic site by that measure.

Use this interactive satellite pic of Earth to get a sense of where you (or your friends far away) are, with respect to the circle of illumination at any time.

A really good geography page! World Sunlight Map: Mollweide projection
I hope these are not all true, but they are fun, and even a bit educational! Why americans should never be allowed to travel
Some Geography Departments & Geography Professors
I am a faculty member in the Department of Earth Sciences and Geography at Bridgewater State College . I work with Dr. Peter J. Saccocia on the department's web page .


I highly recommend Internet Resources for Geographers at the University of Texas at Austin.

In 1986, I received the BA in geography from UMBC .

In 1989, I received the MA in geography from Miami University of Ohio.

I received my Ph.D. in geography and Latin American Area Studies at the University of Arizona in Tucson.

Geographer and friend Roy Brooks from South most Texas recommends the web sites of the geography departments at the University of Texas and Texas A&M . I'm happy to include them, as I used to teach geography for both institutions. I was at outlying campuses (in Texas, that can be very outlying!), though, and my Texas friends assure me I'm neither Longhorn nor Aggie. Those outlying campuses were in Brownsville and Alice, which itself was an extension of A&M Kingsville.

The Department of Tropical Environment Studies & Geography at James Cook University in North Queensland, Australia has an interesting web site.

Dr. Susan Woodward at Radford University in Virginia is a leader in the use of the web to teach bio geography. The home page for her bio geography course includes her own excellent resources and links to others in bio geography, especially to virtual field trips.