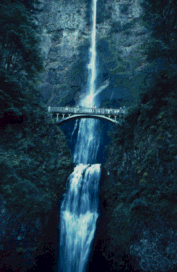 Oregon is known for its well-watered forests in the western part of the state. Less well known are the arid and semi-arid lands to the east of the Cascades. I've had the opportunity to spend some time in and around such beautiful places as the Oregon coast and the cities of Portland and Eugene. We quickly passed through the Columbia River Gorge, including the famous Multnomah Falls.
I recently heard from Herman Kreiger of Eugene Oregon, who correctly guessed that I would enjoy his photographic essays. Most of them are based in and around Eugene, but some -- particularly those taken in shopping malls -- reveal something about many of the increasingly homogenized and corporatized public spaces in the U.S.
So far, I have visited the counties shown in yellow.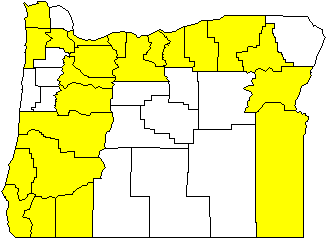 I have been to 22 out of 36 counties in Oregon.
For a very clear map with the county names, visit Delorme's Oregon Counties page.

Return to my home page.