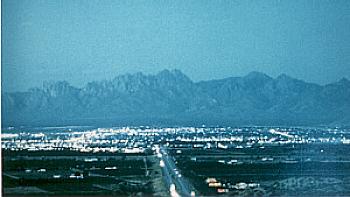 No, it is not a separate country, although many people think it is. Sometimes the U.S. Postal Service returns letters to this state, indicating that extra postage should be attached for international letters!
I have had the pleasure of many visits to this beautiful state, mostly while I was living in neighboring Tucson, Arizona. Several of these visits included lovely Las Cruces, with the distinctive Organ Mountains to the east. A local high school has prepared a virtual tour of historic Old Mesilla. If you are ever in Las Cruces, be sure to spend some time in the old town.
So far, I have visited the counties shown in yellow.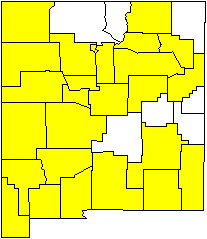 I have been to 26 out of 33 counties in New Mexico.
For a very clear map with the county names, visit Delorme's New Mexico Counties page.

Return to my home page.