KY - Kentucky

Learn more about Kentucky and see the county names at Yahoo's Kentucky page.
While in Southwest Ohio, I had many chances to visit Kentucky. I even did some work in Paducah once. The counties in Kentucky are small, so you really have to work to fill in all of the counties in this state!

| | |
| --- | --- |
| www.mammothcave.com | During graduate school in Ohio, I took two geology field trips to Mammoth Cave National Park. From this I learned that counties areVERY important in Kentucky, at least to those who enjoy adult beverages. Most Kentucky counties are "dry," meaning that alcohol is not for sale. Some are "wet," meaning that alcohol is legal throughout the county. Mammoth Cave is in Edmonson County, which is dry. Neighboring Warren County is "split," meaning that some towns allow sales. Not surprisingly, liquor stores are clustered on the county line. I really wonder whether this patchwork (see map) contributes to problems with drinking and driving - a good study for some geographer to do! |
So far, I have visited the counties shown in yellow.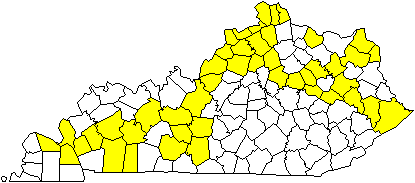 I have been to 46 out of 120 counties in Kentucky.
For a very clear map with the county names, visit Delorme's Kentucky Counties page.

Return to my home page.