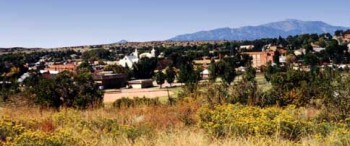 Walsenburg, Colorado was the first Western town I ever visited, on my first long road trip with my friend and fellow geographer, Mike Norris.

On a later trip, I traveled up the Front Range with a group of fellow geographers, some of whom had never been in mountains or snow before. We experienced a white-out that made me extremely nervous, even though I was a veteran snow plower. Many locals seemed unphased. We stopped in the only highway rest stops I have encountered that were stocked with firewood. Fortunately, the storm passed before we were required to use it.

So far, I have visited the counties shown in yellow.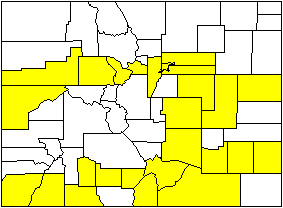 I have been to 26 out of 63 counties in Colorado.
For a very clear map with the county names, visit Delorme's Colorado Counties page.
Do you have a postcard from Colorado?

Return to my home page.