My first trip to upstate New York was to Keuka Lake in Yates County.
We have enjoyed many visits to Duchess County, where we visit our friend Jeff, a musician, cook, photographer, and of course, a geographer! Jeff works for Scenic Hudson, and through him I have learned a lot about this wonderful river and the efforts to protect its scenic, historic, and natural character. The book River Horse by William Least-Heat Moon is a great introduction to the Hudson and to many of the other great rivers of the United States.

During Spring Break 2002, we visited my Brazilian friend Miguel, who was doing a post-doc in Toronto. On the way we traversed nearly the entire New York State Thruway without seeing much else in the state, but we did pause for a quick visit at Niagara Falls. Atmospheric conditions at the falls were such that snow was forming from the freezing spray.

In the summers of 2006 and 2007 our daughter Paloma has fallen in love with Unirondack -- a Unitarian-Universalist camp in the Adirondacks. It is a great, remote place in the north-center of the state. Taking her there and back has given us a chance not only to visit Lewis County, where the camp is located, but also other counties along the way.

Albany has a vibrant downtown with a number of great restaurants. If you want to splurge on a lovely gourmet meal in an exquisite garden setting, the best choice is in a surprising location -- practically underneath a freeway exit ramp. Nicole's Bistro is in one of the oldest Dutch-built houses in North America. It has a lovely patio, attentive service, and delicious, fresh food. Do not go if you are in a hurry -- take time to savor the atmosphere and the food.

A very cool New York county fact: A single city (New York City) includes five entire counties! It is also funny that whenever I mention a trip to New York, people ask, "What part -- Upstate?" The answer is usually "yes," because Upstate is well over 95 percent of the state! What I find amusing is that the term hardly narrows things down, other than to exclude one tiny corner.

So far, I have visited the counties shown in yellow.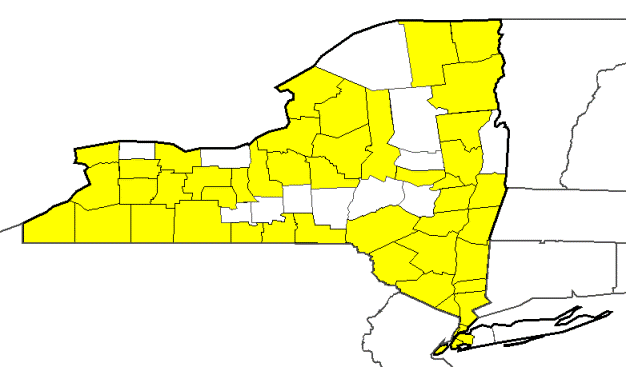 I have been to 38 out of 58 counties in New York.
For a very clear map with the county names, visit Delorme's New York Counties page.

Return to my home page .