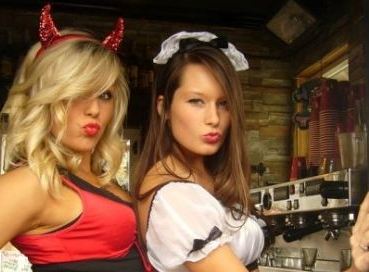 Of course, stoking the ego of customers is a big part of the equation in any service profession, with choices about dress and behavior being matters of degree. Harry Bliss wryly notes the importance of
sychophantry
in this this comic, but its full-on deployment is more often associated with the service of alchoholic beverages. An interesting aspect of the sexy barista trend is that it is associated with a beverage that focuses attention, rather than loosening inhibitions.

Though most of the activity is in the coffee haven of suburban Washington state, media interest is much broader. This is exemplified by a London

Daily Mail

article that examines the
alleged crossing of boundaries between service with a smile and outright servicing.
In the Huffington Post, Phil Bronstein discusses the autonomy of individual women in this business and the tension between prurient and puritan responses, raising the question of whether the baristas are "
bad feminists
." The same blog contains a
link
to a story in the Edmonton
Patch
that
questions the scope of police attention to the issue
, implying that a puritan surface (as is often the case) belies a prurient undercurrent.
Moderate evangelical writer Wendy Alsup attempts a theological analysis of the phenomenon. In the end, I find her to be a bit condescending, but her essay at least mentions the interior life of the women involved in a way that most writing on the topic does not.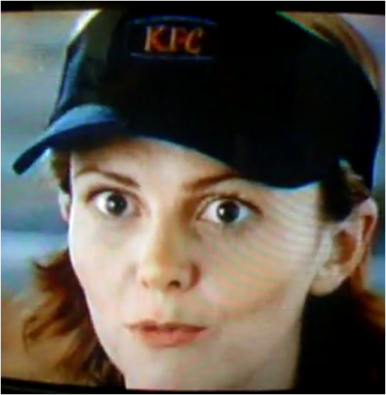 Kitsap County (Washington)
legal writer Josh Farley reports
that his county has no ordinance against bikini baristas, and makes several arguments for keeping it that way. First, he praises his local officials for focusing their attention on what he sees as higher priorities. Second, he argues that since the First Amendment protects much more problematic forms of expression than skimpy clothing, ordinances and enforcement efforts might not.
Seduction -- or more often the implication of seduction -- in the pursuit of sales, is not limited to alchohol and coffee, of course. Even for the path
etic guy ordering a "Loser Pile" in the infamous KFC commercial the appeal of the "food" itself is greatly enhanced by the chaste but obvious flirtation of a fast-food vixen.