Librarians in Pop Culture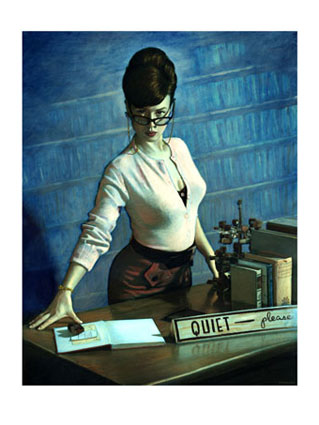 The stereotypical librarian is ubiquitous in pop culture. We have all seen the old maid, prim, slightly older woman with her hair in a bun shushing people in television, movies, advertisements and books. As a librarian I sometimes find these funny and sometimes not, depending upon the context in which they are shown. This page contains images of librarians some of which are flattering and some not. I do want to take a moment to defend Marion the Librarian from the film The Music Man. As an icon, she tends to be the one librarians mention as everything we are fighting against. However, Marion is a true defender of the first amendment and free speech. This is what the Library Bill of Rights is all about.
Give Marion a break.
______________________________________________________________________
Librarian Book Cart Competition at ALA
You Don't Look Like a Librarian
Companion page to Ruth Kneale's book.
Shattering librarian stereotypes in the 21st Century!
Librarian Dress-Up page
Change a spinster to a Super-hero just by dragging and dropping!
Lego Librarians
Which one(s) are you?
My Favorite movies featuring Librarians or Libraries:
Ghostbusters
It's a Wonderful Life
Wings of Desire (1987)
Shawshank Redemption
Party Girl
Desk Set
Beauty and the Beast
Breakfast at Tiffany's
The Girl Who Couldn't Lose
Music Man
Pleasantville
Tomcats
Because of Winn Dixie
Major League
Agnes and his Brothers
Did you hear the one about...
Librarian Jokes
And even more
Librarian Jokes
_________________________________________________________________________________________
Return to Pam Hayes-Bohanan's Librarian page
Return to Pam Hayes-Bohanan's Simple Living Pages
Page Updated on September 12, 2013