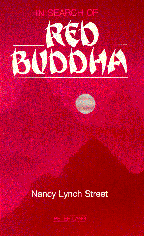 In Search of Red Buddha
This book, published by Peter Lang in 1992, was authored by Dr. Nancy Street and describes her experiences in a closed cityin the People's Republic of China from 1985 to 1988.
According to the book's jacket, "As an exchange professor and 'foreign expert,' Dr. Street was posted to live and work in an educational work unit in Shanxi Province. This study reveals the lives of Chinese university students, of Cultural Revolution "intellectuals in exile," and the culture shock and adaptation process of Western foreigners.
In a review of In Search of Red Buddha, Donald Fishman of Boston College wrote, "Dr. Street's vivid account of the history, culture, geography and ideology of China, particularly the impact of the Cultural Revolution, is thought-provoking and insightful. This is a readable, entertaining and wonderfully informative account of modern China. I strongly recommend it."
Dr. Street has twice been an Exchange Professor to Shanxi University in Linfen, Shanxi Province. She has also made other trips to the People's Republic of China, as noted in her biography available on this web site.