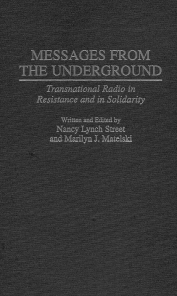 Messages from the Underground
Transnational Radio in
Resistance and Solidarity
Written and edited by
Dr. Nancy Street and
Dr. Marilyn J. Matelski
published by Praeger, 1997
This is a comprehensive examination of the role transnational radio has played and continues to play in world affairs. The authors chronicle the decisive role transnational radio has had in changing how people think and act.
The following representative chapter headings illustrate the scope of this book:
Vatican Radio: Papal Visions for Propagating the Faith
The BBC World Service: Extending "The Empire"
America's Voices: Radio Free Europe/Radio Liberty, Voice of America,
Radio Marti, and Radio Free Asia
The Scepter and the Sickle: Vatican Radio and the Solidarity Movement
"The Dice are on the Carpet": The BBC and the French Resistance
in World War II
Institutionalization of Anti-Castro Radio Broadcasting
Radio Liberty During the Cold War . . . and after the Thaw