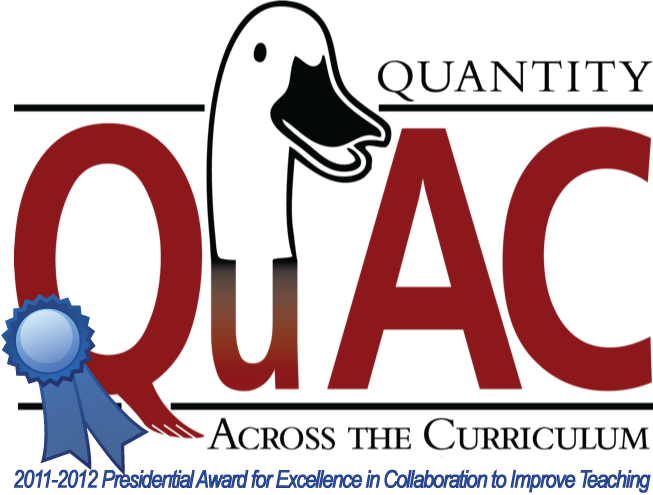 Quantity Across the Curriculum
Quantity Across the Curriculum (QuAC) is a faculty learning community dedicated to supporting faculty to increase their and their students' engagement and skill with quantitative reasoning in their discipline.
This effort is being facilitated by Dr. Matthew Salomone, Department of Mathematics. It is supported in part by a grant from the Davis Educational Foundation.
Fall 2012 Events (Flyer)
In Fall 2012, QuAC is sponsoring two faculty workshops:
Spring 2012 Events (Flyer)
In Spring 2012, QuAC hosted three workshops and a plenary event.
Election 2012: By the Numbers

1. Framing a Quantitative QuestionShow resources
Tuesday, February 28, 2012 — 1:00-2:30


2. Building a Quantitative AssignmentShow resources
Tuesday, March 13, 2012 — 1:00-2:30


3. Using "Just-In-Time" MathematicsHide resources
Friday, March 30, 2012 — 11:00-12:30


Beyond the Formula
QuAC 2011-2012 Plenary (Program)


Friday, April 27 — 11:15-2:00
Fall 2011 Events (Flyer)
In Fall 2011, QuAC hosted four learning community discussions. You may click on the links below to access discussion materials after each is held.
Faculty Workshops
Resources from QuAC faculty development workshops may be found below. Click on the workshop name to access its materials.
Engaging Students with Quantitative Reasoning
Visiting Lecturer Development Day — Wednesday, January 4, 2012

| Classroom Practice | Assignment Design |
| --- | --- |
| | |
The Common Core State Standards: Transition from Secondary School to College Writing
Writing Across the Curriculum Panel — April 26, 2012

Using Writing to Teach Mathematics, A. Sterrett, ed. MAA Notes #16, ISBN 0883850664
Math Journaling Overview and Lesson Plans, part of TOFU (Tools for Understanding), U. Puget Sound
Examples of Math Writing Assignments, MAA guidelines for developing mathematical communication
A Short Guide to Writing Mathematics, S. Maurer, Swarthmore College
Writing, Reasoning, and Mathematics, M. Salomone, speaker's slides from event
Source Materials, Readings, and Handouts
The following are materials the QuAC learning community might find especially useful in thinking about quantitative coursework, here at BSU and beyond.
Organizations
Readings