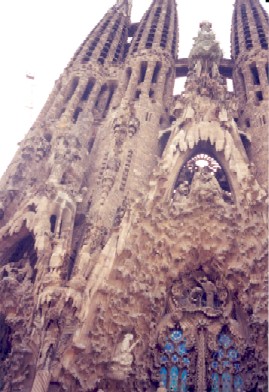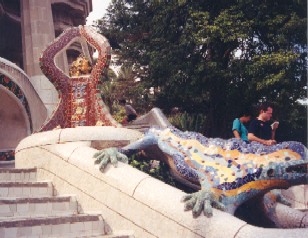 Dragon deity? Lizard phantasmagoria?
Sagrada Familia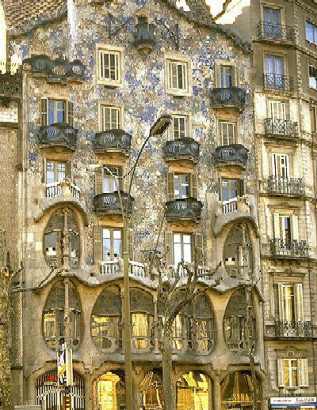 Manzana de la Discordia, Barrio Eixample
The hallucinogenic, gorgeous architectural confections of Antonio Gaudí: swirling sea serpents frozen in stone, undulating aquatic invertebrates comprised of broken champagne glass, shells, found materials, a park whose benches imitate the slither of dragontails, a cathedral-in-the-making whose towers surge in an impossible blend of lapidary neo-gothic glory and Disney gone darkly awry.
Then there is the art nouveau ornamentation of Picasso's old haunts, including the famous Els Quatre Gats café where he confabulated with Dalí and Miró. The Barrio Gótico of narrow, labyrinthine streets studded with brightly colored plaques limning Catalan history and inscribed with folk proverbs. Art nouveau nocturnal haunts that get started at 2:00 a.m. A beautiful profusion of bookstores boasting works in Spanish, Catalan, and French. A tradition of progressive thinking that dates back to the Middle Ages made this city a bastion of resistance to the fascist Francoist forces during the Spanish Civil War (1936-1939), and has nourished internationally acclaimed writers, artists, and philosophers. A culturally forward-looking urban space that celebrates the beauty of human beings in all their diversity, some of which may be seen in Pedro Almodóvar's Academy-Award winning film Todo sobre mi madre, which depicts the complexity of human desire and sexuality with compassion while also portraying the terrible realities of the AIDS scourge even circa 2000.
A quiet neighborhood church whose door is pockmarked with bullets from Franco's forces.
A globalized space of gleaming museums featuring artwork from every continent.
A perfect venue for students of every nation to meet, experience, question, challenge, and better comprehend what foreignness is, in all senses of that word. For a lovely meditation on these issues, see Cédric Klapisch's L'Auberge Espagnole.