Comp 152 Project 3: Inheritance
Due:

Friday March 7th at 11:55pm




Project:



You will write a program which will demostrate inheritance using some simple classes which might form the backend of a game with bit more work. Implement the UML found below: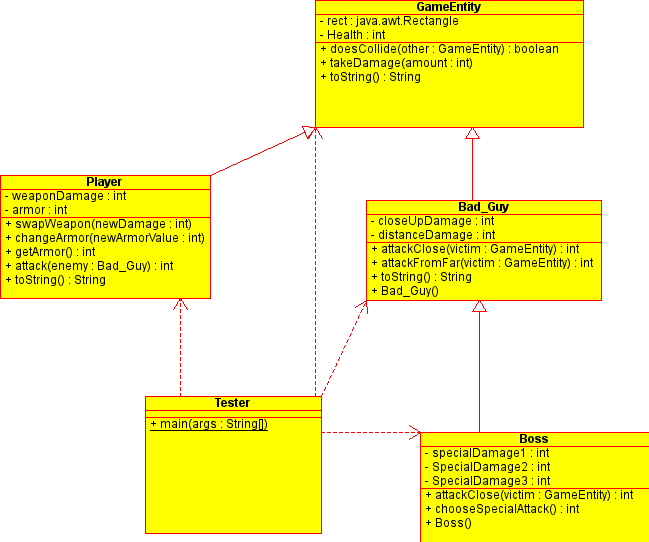 Methods:

The methods in the UML class diagram aboce should be implemented as follows:

GameEntity Class

doesCollide: should return true if the rect for this one overlaps the rect for the other GameEntity (hint: see the java.awt.Rectangle documentation for a method to do this for you)
takeDamange: reduces health by amount
toString should print out the entity and its health


Player

swapWeapon: should set weaponDamage to newDamage
changeArmor: should set armor to newArmorValue
getArmor: should return armor
attack : should call takeDamage on the enemy
takeDamage: should reduce the damage by (armor/1000) percent and then call the parent class takeDamage
toString: standard toString then call parent class toString


Bad_Guy:

attackClose should call takeDamage on victim passing closeUpDamage as the parameter
attackFromFar should call takeDamage on victim passing distanceDamage as the parameter
the Constructor should initialize the two instance variables to some int between 100 and 200 of your choice

Boss

Constructor should set the three special damages to three values from 100 to 500 (you choose how)

attackClose should call chooseSpecialAttack and then us its return value as a parameter to call takeDamage on victim
chooseSpecialAttack should randomly choose (using a java.util.Random object) a value from one to three and return that specialDamage value as its return value (for example if you randomly choose twothen return SpecialDamage2)

Tester

main: this is the driver. It should test the various classes as follows

create a player, a bad guy and a boss.
This is the repeat marker

ask the user what the players armor should be

changeArmor to that value


ask the user what the players weapon should be
have the Bad_Guy attackClose on the player
have the Player attack the Bad_Guy
print out the each of your three objects (you'll need to use your toString)
Have the player attack the Boss
have the boss attack the player
print out the each of your three objects (you'll need to use your toString) again
repeat everything above starting from "This is the repeat marker" one more time.


Extra requirements for the project

Comment your code.
Include a readme.txt with your project telling me
your name
Anything you didn't get done



Submission:
Zip up your project into a single zip file
Submit using Moodle as before.