Introduction:
In this lab you will build the second part of a one level graphical game. You will now add a single line of "blocks" to your
Objective:
The high level objectives of this lab are:
What you must do:
Extend your project 6 according to the following UML diagram. (As usual, you may add additional funcationality so long as you meet this minimum specification)
For those who have not been able to complete Lab6. A sample solution is available. Therefore no late lab6 solutions will be accepted. Submission for lab 6 is now closed.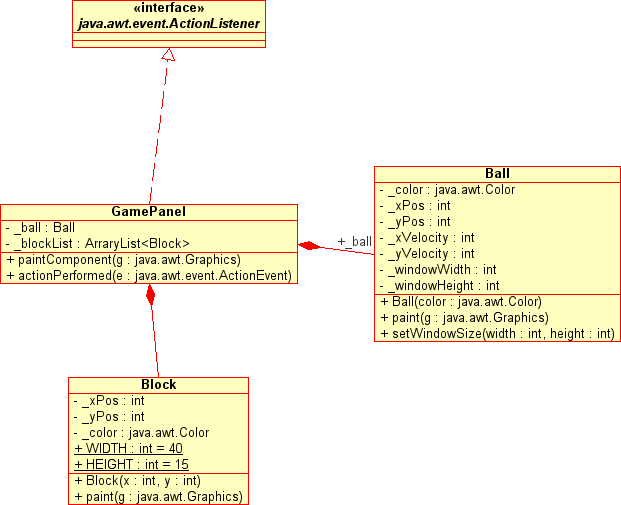 Your program should look something like this: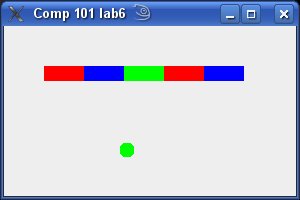 Where the ball bounces around. If the ball hits a block, that block should disappear.

Some specifics:

Block class

the constructor should setup the color for the block. (you may include a third parameter if you like, You may also use a single color for all of the blocks, in which case it will look like one lon line until one of the blocks disappears). The constructor also needs to take the x and y passed in and initialize _xPos and _yPos
paint takes a Graphics objects as its parameter (just like the paint in the Ball class did.) The job of this method is to paint the block.

The WIDTH and HEIGHT attributes are constants representing the width and height of the blocks. You may change the values from the ones I've used.

GamePanel

We've added one instance variable. You should initialize it in the constructor and fill it with blocks
You must have at least 5 block objects in your solution.
The paintComponent method needs to be expanded to loop through the _blockList and call paint on each of the blocks.

Ball

the paint method needs to be expanded yet again to check for intersections between the ball and a block. If there is an intersection, remove that block from the list. (you will need to provide some way for the Ball object to get the list from the GamePanel object. You might add a second parameter to paint, or provide some other means of sharing the information between the two objects.
Submitting
When you submit this time, add a readme.txt file to your lab6 folder (as with lab5, feel free to reuse your lab6 folder). The readme should contain:

Your name.
A very brief summary of what you did, including any new methods you added and why you chose to implement things the way you did.
Directions on how to run your program and anything unusual that I need to do to get it working properly.
A list of any problems still in your code or anything that you didn't get done.
Once your readme is in place, submit as usual with the online submission. Use your last and and the project number in your zip file name