By Joseph H. Huber
Will Theaters Receive Two Thumbs Up from Individuals with Disabilities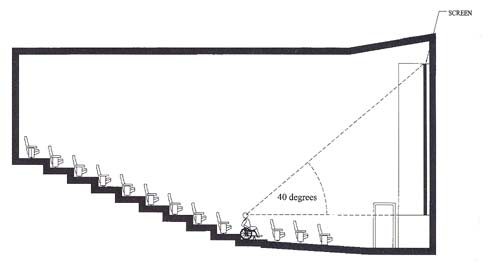 Section view of the theater shows a viewing angle that is sever for wheelchair users, causing discomfort. Copyright 2000, Paralyzed Veterans of America. All rights reserved.
In response to serious competition from cable and satellite television, DVDs, and home theater systems, movie theater chains across the United States are building larger and more lavish theaters. One of the most poplar innovations in this recent development is stadium-style seating (The Boston Globe, December 19,2000). This feature, along with other amenities, is giving a needed boost to the movie theater industry. To the delight of moviegoers, thousands of such theaters have been and are being built across the country.
Stadium-style seating is based on a tiered seating design. Instead of the gradual, upward slope found in traditional theaters, stadium-style theaters generally have two sections. In the front of the theater is a small, traditionally designed section close to the screen, and behind this area is the much larger stadium-style section.
Stadium-style seating is characterized by steeply banked rows of seats elevated on risers, so that each row is 12 to 18 inches higher than the row in front of it (Boston Sunday Globe, January 7, 2001). This design provides an unobstructed view of the screen. However, given this arrangement, moviegoers are required to climb a series of steep steps to sit in this enhanced viewing area.
The Issue
For the most part, seating for individuals with disabilities in these new theaters is located extremely close to the screen. Although they have paid the same admission price as other patrons, individuals with disabilities feel they are being relegated to the least desirable location for movie viewing. Furthermore, they are often separated from their non-disabled friends who may elect to sit in the stadium section. Because they are being located close to the screen, individuals with disabilities often strain their eyes and must constantly hyperextend their necks during the show.
According to architects representing theater owners, the Americans with Disabilities Act (ADA) actually prompted the new stadium-style theater trend. Multilevel seating, however, is a failed attempt to give every patron an unobstructed view of the screen. Many individuals with disabilities feel the unobstructed view is otherwise compromised by their close proximity to the screen (Paraplegia News, April, 1998). To support this assertion, the Disability Rights Section of the U.S. Department Of Justice has received a wave of legal challenges pertaining to this issue. The complaints focus on lack of integrated wheelchair-seating locations throughout the newly designed theaters. Individuals with disabilities maintain the AD A Accessibility Guidelines state that wheelchair seating should be
An integral part of any seating plan;
Be dispersed throughout the theater; and
Provide lines of sight comparable to those available to the general public (Code of Federal Regulations, July 1, 1994).
However, complicating the issue is an apparent loophole in the ADA Accessibility Guidelines. The National Association of Theater Owners, a trade organization, as well as many national theater companies, contend that in accordance with the Guidelines, seating is not required to be dispersed in assembly areas of fewer than 300 fixed seats.
A Precedent and Going Forward...
The ADA has proven to be a powerful tool in addressing similar complaints. One example is the seating in sports stadiums. In 1996, a U.S. District Court judge in Washington, DC, forced builders of the MC! Center to halt work in mid-construction in order to add spaces that would (a) enable users of wheelchairs to see beyond standing spectators, and (b) disperse wheelchair locations throughout the arena (The Washington Post, December 8,2000).
Due to the number of complaints it has received, the U.S. Justice Department is initiating lawsuits against many of the major theater companies across the country. The Justice Department is asking the courts to provide wheelchair access to stadium seating, to correct theaters already built, and to design and construct all future theaters with an emphasis on accessibility.
On a more positive note, some theater companies are establishing a new standard for stadium-style theater construction. Builders of the 24-screen Medico Megaplex at Arundel Mills, MD, installed elevators and extra ramps enabling users of wheelchairs to view films from positions other than the extreme front of the theater. The chain is planning comparable theaters in Fairfax, VA, and Silver Spring, MD (The Washington Post, December 8, 2000).
Will theater companies receive two thumbs up for incorporating wheelchair access in stadium seating theaters? Ten years from now, will we be able to look back and relish achievements won for individuals with disabilities related to this issue?