By Joseph H. Huber
Travelers With Disabilities: Are They Having Fun Yet?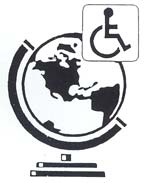 Illustration provided by Fredericka J. Huber
Individuals with disabilities have long been overlooked (not perceived as consumers) by the travel and tourism industry. Traditionally, travel agents have been reluctant to explore this market. Industry personnel were often deficient in both knowledge and experience necessary to meet travel needs of various disability groups. Moreover, there has been broad skepticism about profitability because of the immense preparation, study, and pre-planning necessary to make travel for those with disabilities both safe and enjoyable.
While a handful of specialized travel agents have served travelers with disabilities, it is only over the past ten years that major strides have been made to improve travel for this population. In 1986, the Air Carrier Access Act, and in 1990, the Americans with Disabilities Act, were passed by Congress to ensure that persons with disabilities will be treated in a fashion consistent with all travelers.
Legislation is not the sole reason for the travel industry's pursuit of the growing market of travelers with disabilities. Economics also plays major role. At a time when the industry is frantically searching for new specialized niches to enhance their bottom lines, many agents are studying the potentially large market of travelers with disabilities as a possible profitable option (ASTA Agency Management, May 1996).
Current Strategies
The earliest formal recognition by the travel industry of the rights of people with disabilities occurred with the founding of the Society for the Advancement of Travel for the Handicapped (SATH). Since 1976, SATH has worked vigorously to foster public interest in travel, tourism, and recreation for people with disabilities and to assist corporations, states, and countries in the development and expansion of an accessible tourist infrastructure.
In recent years, SATH has sponsored, with industry-wide support, the following:
The Travelers with Disabilities Awareness Week (1991) which is held annually in recognition of the industry's need to develop strategies for addressing the underdeveloped market of travelers with disabilities.
The Access to Travel Magazine (1995) which focuses on the destinations, attractions, adventures, and accommodations for a broad range of consumers with various disabilities.
In addition to the work of SATH, in 1990 the American Society of Travel Agents (ASTA)-the world's largest travel trade organization-in an attempt to meet the needs of individuals with disabilities, established the National Committee on Travel for Persons with Disabilities. ASTA also conducted its First Disabilities Symposium during September, 1995. One hundred and seventy-five travel agents from around the country attended what would become an annual event.
Within corporate America, it appears that American Airlines has taken a leadership position. American is the only airline with a Committee on Serving Customers with Disabilities, a group which is comprised of representatives from various advocacy groups for those with disabilities.
The federal government held the first-ever White House Conference on Travel and Tourism (October 30-31, 1995) to establish a strategic plan for the industry. A priority action of the conference was to have the Travel Industry Association of America develop guidelines pertaining to accessible services, procedures for problem resolution, and disability access information.
Remaining Problems
More and more Americans with disabilities are enhancing their lives through travel. Travel for this population, however, is still fraught with barriers and inconveniences. A sample of such concerns are:
Can my battery-operated wheel-chair be accommodated?
What about my service animal?
Are personal assistance and medical attention available?
Will my special dietary needs be met?
Can I bring my own oxygen?
Today these questions and other concerns can be minimized by the many services available to travelers with disabilities. These services include:
Tour operators with a staff of experts who test drive travel destinations to assure accessibility and accommodations.
Travel companions who act as travel escorts to provide individual assistance throughout a journey.
Travel services and resources on the Internet for individuals with disabilities.
However, despite the attention and significant improvement made in accommodating travelers with disabilities, uncertainty and, at times, dissatisfaction, may still be experienced. The diverse physical needs of individuals with disabilities prevents the travel industry from tailoring a foolproof product that adequately serves the needs of all customers. This is particularly true when traveling outside the United States where there are as many varying standards and degrees of accessibility as there are countries. So, travelers need to take heed and do their homework for both the tour operator and the destination.