By Joseph H. Huber
Is There Justification for Continued Federal Support to the Corporation for Public Broadcasting?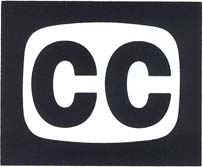 Illustration provided by WGBH, Boston.
In 1967 Congress passed the Public Broadcasting Act to create the Corporation for Public Broadcasting (CPB). Congress made a small investment via CPB to meet a perceived need for alternative programming not provided by commercial TV networks.
CPB has enhanced the education of children by seeking to maximize the potential of its programming as learning tools for educators (e.g., Barney, Sesame Street, etc.). Less known to the public but a vital part of CPB's mission are its efforts to serve the widest possible audience. For well over 20 years CPB has led the broadcast industry by providing programs and developing ancillary materials to improve the well-being of individuals with disabilities.
CPB's first venture into the field of accessible media occurred in 1972. The Public Broadcasting Service's (PBS) WGBH in Boston, an affiliate of CPB, pioneered captioning for the 20 million American viewers who are deaf and hard-of-hearing. Like subtitles, captions display spoken dialogue as printed words on the television screen. /CC/ is the universal symbol used in print and video to signify that a television program or home video is closed captioned.
Until recently, captions were visible only on TVs equipped with a set-to closed captioning decoder. However, in 1990 the TV decoder Circuitry Act mandated that all new television sets, with 13 inch screens or larger and manufactured for sale in the U.S., must contain built-in decoder circuitry to display closed captions.
WGBH now provides technical assistance to four commercial networks (ABC, CBS, FOX, NBC) in their efforts to provide closed captioned programming. For example, most major national sports events are closed captioned (e.g., NFL Football, World Series, etc.).
Local TV stations are also becoming cognizant of the needs of people who are deaf and hard-of-hearing. For example, the Red Sox and Blue Jays have been captioning weekend broadcasts of their games for the past two years.
Since 1990 WGBH has also been working to make TV programming more accessible to the nation's 12 million viewers who are blind or have low vision. Providing this service involves innovative technology known as Descriptive Video Service (DVS). DVS provides narrated descriptions of a television program's key inaccessible visual elements during natural pauses in the dialogue. The narration describes visual elements such as actions, body language, and settings.
Viewers can hear DVS simply by flipping the Secondary Audio Program (SAP) switch, a standard feature on most new stereo TV s and VCRs. While captioning for individuals who are deaf or hard-of-hearing is currently being broadcast to a11 341 PBS stations, only 117 PBS stations are equipped to broadcast programs with DVS.
DVS also adds narrated description to favorite PBS programs and Hollywood movies. For example, PBS provided DVS for Ken Bums' documentary series entitled Baseball. It would be hard to imagine Burns' series with no picture and no description of Babe Ruth's classic swing during the 1927 season in which he hit 60 home runs or the amazing catch by Willie Mays in the 1954 World Series (Downsizing Government and Setting Priorities of Federal Programs, U.S. Government Printing Office, 1995).
When CPB was formed 28 years ago, Congress believed it was passing legislation to fill an existing cultural and educational programming void created by the three national networks. However, with the thousands of radio and television stations that exist today, many in Congress feel subsidies for public broadcasting are no longer warranted.
Cuts in CPB funding are now being considered. The annual cost to each American is $1.09 for all programs broadcast on CPB's PBS and National Public Radio. What would happen if CPB is forced to go commercial to survive? First, the type and quality of programming exemplified by Ken Burns' Civil War series would be in jeopardy. Ken Bums himself maintains that "no for-profit TV company would have let me do a project the size and style of the Civil War" (The New York Times, February 5, 1995).
Second, and of equal importance, is the fact that CPB's mandate to provide opportunities for selected groups of individuals with disabilities to benefit as fully as possible from the information age would be in serious jeopardy. Should this legislative mandate be placed in the hands of the market place? If funds to CPB are drastically cut, will America run the risk of widening the gap between the information-rich and the information-poor?