By Joseph H. Huber
First In the Nation: Minnesota's Athletic Conference for Those with Disabilities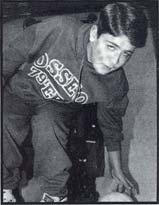 Scott Hansen
It has taken 25 years and the efforts of many high school athletes with disabilities and their teachers and coaches to achieve the goal of establishing an adapted athletic program, the Metro Adapted Athletic Conference (MAAC). Furthermore, within the past year, MAAC has taken what some consider its rightful place within the Minnesota State High School League (MSHSL). Adapted athletics in Minnesota had their start with Jim Christy, who is currently a special education teacher in the Minneapolis Public Schools. In 1969, Christy, who has cerebral palsy, asked Ed Parhofsky, his high schbol physical education teacher and a successful men's basketball coach, why students with disabilities could not participate in after school athletics.
For many years, Parhofsky was bothered by Christy's question. The query was partially resolved in 1975 when Parhofsky started a recreational floor hockey program for students disabilities from four Minneapolis area schools. In the same year, Parhofsky, Christy, and others formed the Minnesota Association for Adapted Athletics (MAAA) to provide leadership to the adapted athletic movement within the state.
In 1979, the MAAA converted the recreation program to the first in the nation high school athletic conference (the MAAC) for those with disabilities, and established administrative policies and procedures consistent with the MSHSL. Schools participating in the Conference became responsible for providing services and personnel equal to those provided able-bodied athletes (e.g., uniforms, equipment, practice time, transportation, as well as paid coaches and officials).
One Remaining Goal
On several occasions during the 1980s, MAAA requested both full membership for MAAC within the MSHSL structure and the right to participate in state tournaments. But it was not until Cathy Peterson, Athletic Director for South High School in Minneapolis, was appointed to the 22-member State Board of Directors of MSHSL that full League endorsement of MAAC was achieved. For several meetings, Peterson placed adapted athletics on the Board's agenda to initiate a meaningful dialogue among Board members regarding the value of athletics for students with disabilities.
The Board of Directors of MSHSL finally voted in 1992 to present to the 90-member State Representative Assembly an amendment to the bylaws of the MSHSL which would fully sanction high school athletics for students withdisabilities. After a long and emotional meeting on November 19, 1992, the Assembly voted unanimously to adopt the amendment.
MAAC started formal competition under MSHSL's auspices during the fall of the 1993-94 academic year with 42 schools. During the first year the League offered state tournament competition for indoor soccer, floor hockey, and indoor softball. Two divisions were formed: one for athletes with physical disabilities and the other for athletes with mental handicaps.
National Perspective
For many, Minnesota's model for adapted athletics is the envy of the country; however, other states are starting to make progress in this area, as well. For example, Iowa, Louisiana, and New Jersey created new divisions within their respective state track and field championships to provide athletes with disabilities the opportunity to compete for state recognition. Moreover, the New Jersey Scholastic Athletic Association will host its first statewide conference this year to determine the interscholastic needs of students with disabilities.
Robert Kanaby, newly appointed Executive Director of the National Federation of State High School Associations (NFSHSA), has confirmed that Minnesota's program has been discussed at their last three national meetings. "No national standards for adapted athletics have been established to date," noted Kanaby, "but the various sport committees within NFSHSA will be asked this year to review the implications of Section 504 of the Rehabilitation Act and the Americans with Disabilities Act in an effort to establish standards that will enable state athletic associations to conduct their business in an equitable fashion. It would be counterproductive for us to wait for the courts to make these decisions for us."
The Final Question
Is equity in interscholastic athletics for those with disabilities viable? Throughout the 1970s and 80s, national sport organizations and clubs provided financial support, structure, and guidance to athletes with disabilities. The existence of these segregated sport programs has had the effect of removing some of the political pressure on local education associations (LEAs) to create interscholastic athletic structures for students with disabilities. It is starting to appear that the 1990s will be the decade that students with disabilities and their parents will demand that LEAs provide athletic programs equal, in all respects, to those programs afforded able-bodied athletes.