Joseph H. Huber, PhD
Equity and Safety in Sport: A Case Study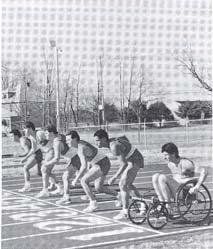 Scott Hollonbeck is currently a freshman law student at the University of Illinois. Like many students today, Scott investigated a number of colleges and universities before selecting Illinois. Unlike most students, however, Scott is a paraplegic and chose the University, not only because of its academic program, but because he planned to run track for their nationally recognized athletic program developed for disabled students.
Scott's pursuit of an athletic career has not been an easy one. While attending Rochelle Township High School, located in a small Illinois farming community 95 miles west of Chicago, Scott encountered objections and eventual restrictions to his effort to participate in track.
During the summer prior to his freshman year in high school, Scott was injured in a bicycle accident. Unable to participate in high school track, he volunteered to manage the track team. The following year, the high school track coach encouraged Scott to return to the team and compete from a lightweight sports wheelchair. Scott was well received by his fellow athletes and was moderately successful competing in both middle and long-distance races.
To enable Scott to compete on a more equal footing against his able-bodied peers during his junior year, Scott's father proposed that several amenities be extended to his son:
A wheelchair division be established and have parity with varsity and freshman/sophomore divisions.
Points be awarded to first, second, and third place finishers of the wheelchair division, with points counting towards each team's total meet score.
Able-bodied and disabled athletes compete against each other in the same heats.
A bell lap be sounded for the runner in first place, thus assuring equal recognition for any wheelchair athlete.
In response to Dr. Hollonbeck's requests, the Rochelle Township School Board stressed concern for Scott's safety, as well as the safety of the other able-bodied runners. However, the issue of safety had never been raised during Scott's sophomore year on the track team nor during his entire four years while participating in the traditional physical education program with his able-bodied peers, While in physical education, Scott participated in such. activities as: basketball, volleyball, soccer, and flag football. There were no restrictions noted in Scott's Individual Educational Plan (IEP) regarding the traditional physical education program; it appears that safety became an issue when Dr. Hollonbeck requested specific amenities for his son.
Subsequently, the Hollonbeck's requested an impartial due process hearing (Level I). In response to the request, a Multidisciplinary Conference (MDC) was held to decide whether Scott could safely participate with his able-bodied peers. The MDC concluded that Scott could only participate in the sports of golf and tennis alongside ablebodied athletes.
Because of certain improprieties, the case was referred to a U.S. District Judge. On December 21, 1988, $50,000.00 was awarded to Scott Hollonbeck as settlement for the school board's discrimination against him (Civil Rights Statute 42 U.S.C. Section 1983). The judge decided the MDC lacked sufficient competence to determine Scott's eligibility, He noted in his decision that denying a person equal opportunity to participate requires a body of individuals, who judge such matters as safety, to possess the necessary expertise to make an informed decision.
According to Hollonbeck's attorney, the MDC committee made several errors:
They never asked Scott's track coach or his physical education teacher to address the issue of safety before the committee;
Scott was denied the opportunity to present expert witnesses;
The committee never saw Scott practice or compete;
No member of the committee was acquainted with disabled athletes competing in wheelchair sports,
The decision in the case of Scott Hollonbeck vs. the Rochelle Township Board of Education may have significant implications for physical education teachers and coaches. First, students like Scott should not be subjected solely to the attitudes and/or competence of the staff developirig the IEP. Second, greater involvement of physical education teachers and coaches at hearings and conferences is necessary to assure equal opportunity and to help determine appropriateness and/or safety of activities and sports for the disabled.
How can we prepare for these responsibilities? How can we insure our inclusion in the decisionmaking process? What are the legal and professional ramifications if we do not actively engage in the educational placement of the disabled student and athlete? How would you address these ISSUES?