Joseph H. Huber, PhD
All-terrain Vehicles-- Friend or Foe?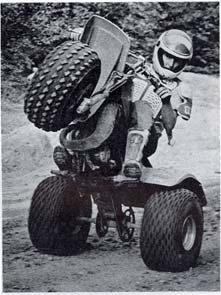 Three-wheel all terrain vehicle
Miniature motorcycles better known as all terrain vehicles (ATVs) - have become increasingly popular with the physically disabled in recent years.
Because ATVs can travel through or over a variety of terrains, including unpaved roads, fields, beaches, water and ice, they have improved the physically disabled's potential for leading a fuller and more productive life. This popularity of ATVs may also be attributed to the facts that they are economical, mechanically efficient, and adaptable both to physical needs and to work and leisure pursuits of the disabled.
ATVs are also extremely popular among children and adolescent youth. Recently, medical groups and governmental agencies have expressed concern about safety of ATVs given the significant number of three-wheel ATV accidents and alarming increase in mortality among ATV riders. A driver's license is not needed to operate these vehicles.
Many young drivers have been injured or killed when their ATV flipped over while attempting a wheelie, jump, or quick turn. Others have been struck by a wire or branch or have driven into a tree when traveling at high rates of speed.
Most ATVs appear deceptively simple to operate. Some are small enough for a five year-old child. They are advertised and promoted as civilized, inexpensive, entertaining, and easy to ride. However, doctors, lawyers, and legislators have pointed to lack of skill, experience, and judgment of young people to safely operate ATVs. They have also raised questions about design and construction of ATVs. For example; stability is compromised when design calls for. three rather than four wheels. Stability is also impaired by: (a) a short wheelbase, (b) a higher and rearward placed center of gravity, and (c) a possible rigid rear axle.
Acting on owner-complaints, congressional hearings, and reports by the Consumer Product Safety Commission (CPSC), a United States district court recently banned further sales of three-wheel ATVs. The physically disabled are sympathetic to the need for prohibiting use of three-wheel ATVs by unlicensed children and adolescents and are supportive of the CPSC ruling. However, the disabled are concerned policymakers may overlook the importance of four, six, and eight-wheel ATVs in their lives for both work and leisure pursuits.
For example, the ATV enables disabled farmers and ranchers to _ attend to their operations. The vehicle is used to fill the gap between a pickup truck or tractor and a wheelchair on areas of the farm or ranch which were formerly inaccessible. ATVs are also seen as filling a gap that exists between the four-wheel drive off-road vehicles and the standard sport or motorized wheelchair. Off-road use does not mean driving the A TV over sand dunes, deep snow, rough fields, and through steams, but does enable the disabled to camp, swim, hunt, and fish on public and private land otherwise inaccessible.
Role of the Professions
What is the role of adapted physical education and therapeutic recreation professions in this controversy? How should the professions assist the physically disabled in their search for well designed and trustworthy ATVs?
For starters, professionals in these fields should respond to concerns regarding safety of ATVs'. Addition legislation governing safe operation of ATVs is forthcoming. What contributions could we make as professionals concerning this pending legislation? What engineering improvements, safety standards, and injury surveillance systems do we think should be incorporated into new laws, (e.g., helmets, protective clothing, fenders for wheels, tip bar for the back of the vehicle, operator instructions, liability insurance)?
For the physically disabled, the ATV helps to fill the void between participation in better known competitive sports and a sedentary existence. Since ATVs were first introduced in the early 1970's, they have provided both enjoyment and utility to thousands of disabled Americans. A balanced approach to ATV use and safety is needed, an approach which respects one's liberty but also' addresses the inherent hazardous nature of the vehicle. As an adapted physical educator or a therapeutic recreation specialist, how do you feel about the use of A TV s by the physically disabled for their leisure pursuits and personal enjoyment? What do you see as the major ISSUE(S) and possible answers? How will you get involved?