Coffee and tea are not botanically close relatives and they do not grow in the same environments, but their common locations are similar enough in very broad terms that some countries are significant producers of both.

Generally, both are found in highland areas in tropical latitudes -- the former colonies of the Global South. The top twenty producers of tea are listed to the right, with recent production in metric tons. Those countries listed in bold are also major producers of coffee.


Patterns of consumption offer some interesting comparisons. The former colonial and post-colonial powers of the Global North are major consumers of both beverages. A key difference, though, is that whereas most major producers of coffee are not major consumers (Brazil being the most notable exception), most of the major tea producers are also major consumers. It is for this reason that

trade

in coffee is greater than it is for tea, even though the latter has much more production.


Coffee and tea have far more in common than coincident locations. What makes the two beverages intersting for a geographer is a common set of other features. For example, patterns of vertical integration in the commerce -- including the unequal distribution of benefits between producers and intermediaries -- are quite similar. It is for this reason that some fair-trade companies and organizations -- such as Equal Exchange -- have begun to add tea to their offerings.

As with cocoa, coffee, and perhaps some other beverages, moving tea from the field to the cup requires some processing that must occur almost immediately after harvesting, so that a variety of factories or mills must be operated in the producing countries. An important components of the fair-trade movement in each case, therefore, is finding ways to give producers some control over these processes.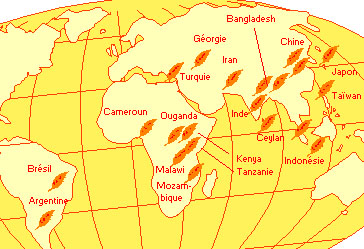 Both coffee and tea are generally sold as blends that are uniform over time and that might include a mix of product from several, different countries. In both cases, however, markets are emerging for beverages with distinctive tastes profiles associated with specific geographic regions. Because connoisseurs are willing to pay a premium for such distinctive coffees and teas, specialty marketing has emerged as a potentially important economic factor for some producers of both beverages.


The Tea Map page from the Republic of Tea describes some of the differences among teas in the historically most important areas of Asia. The World Tea Tour from Coffee Tea Warehouse is another good overview, with this attractive map and some interesting regional distinctions within the larger countries.
| | |
| --- | --- |
| *China | 1,183,502 |
| *India | 949,220 |
| Kenya | 369,600 |
| *Sri Lanka | 305,220 |
| *Turkey | 206,160 |
| *Viet Nam | 164,000 |
| Indonesia | 150,224 |
| Japan | 94,100 |
| Argentina | 72,000 |
| *Iran | 60,000 |
| *Bangladesh | 58,500 |
| *Malawi | 46,000 |
| *Uganda | 35,000 |
| Tanzania | 31,300 |
| *Myanmar | 27,000 |
| *Zimbabwe | 22,300 |
| *Rwanda | 19,000 |
| *Mozambique | 16,256 |
| *Nepal | 15,168 |
| Papua New Guinea | 9,000 |