Wisconsin must be the friendliest state I've visited. Perhaps it is just the charm of my wife's cool Lauerman cousins in Appleton (the setting of that 70s TV show Apple's Way). We also suspect that Appleton might be the model for Rome, Wisconsin, the fictional setting of the much edgier show,

Picket Fences

.



Like most of northern North America, Wisconsin was greatly affected by Pleistocene glaciation. In fact, the final (or at least the most recent) stage of that glaciation is simply called the Wisconsin stage. Glaciation is so important in Wisconsin, that the one area that was never glaciated has a special name -- the Driftless Area -- and the first time I drove into it, I knew right away that something was strange. (Non-geographers, however, might not notice right away.)

This period of glacial advance began 75,000 years ago and ended only 10,000 years ago. Evidence of this most recent advance can be found in other states as well, but in Wisconsin it is celebrated along the Ice Age Trail. Learn more about the nature and science of the Wisconsin glaciation from the US Park Service.




During our 2001 visit to the Badger State, we did indeed return to Dane County to visit the Mt. Horeb Mustard Museum just outside Madison. It fully lived up to expectations, and I got some great horseradish mustard to take home.

On the same visit, we did take various routes across the state, and finally took in the kitch of Wisconsin Dells.

Postcard by G.R. Brown Co., Eau Claire, WI
So far, I have visited the counties shown in yellow.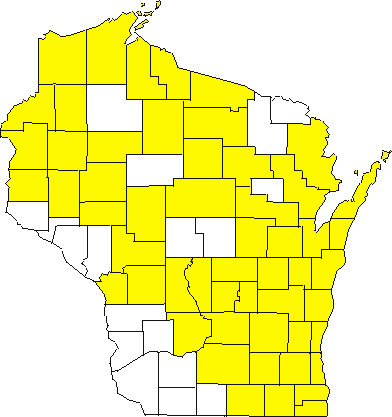 I have been to 54 out of 72 counties in Wisconsin.
For a very clear map with the county names, visit Delorme's Wisconsin Counties page.

Return to my home page.