My first memories are of Virginia - I lived in the northern part of the state until I was fourteen. We were near the Manassas Battlefield, though we called it the Battle of Bull Run because we were Southerners. I still return from time to time, as my grandmother and other relatives still live in the Washington, D.C. area.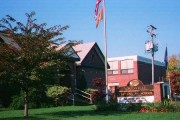 Between 1970 and 1977, I lived on the outskirts of Greater Nokesville, where I attended Nokesville Elementary School. We lived just outside the small village of Greenwich. My house is on the south side of the bend in the road in this photo. During Hurricane Agnes (1972), the creek behind the house went over the banks and took out our foot bridges. Our good friends, the Wood family, operated the dairy farm shown in the northwest corner of the photo.
My father grew up in a small house in Chantilly, Virginia. My grandparents bought the property in teh 1940s and built two houses on it with their own hands. At the time, it was considered to be in the "boondocks." Eventually metropolitan Washington grew to Chantilly and beyond, and my grandparents' story became a case study in urban sprawl. The house was eventually taken by eminent domain, to provide better access to Dulles International Airport. Part of Dulles Airport occupies the northwest quadrant of this 1994 aerial photograph. To the south of the airport is a cloverleaf - the intersection between Routes 50 and 28. The house would be in the location of the northwest part of that cloverleaf! On this 1984 topographic map, the cloverleaf is not shown. Immediately to the northwest of the interestection, you can see the green buffer zone of the airport and the odd property line between the airport and my family's property. On the photo, notice that a major runway is oriented almost directly at the location of the house. I grew up studying the undersides of 747s that were very close to landing. Also notice the incredible high density of residential development in the eastern half of the aerial photograph. Almost all of these houses were built since 1980.
Virginia is the only state with a large number of independent cities that are not part of their surrounding counties. Jurisdictions I have visited are in yellow; those I have lived in are blue.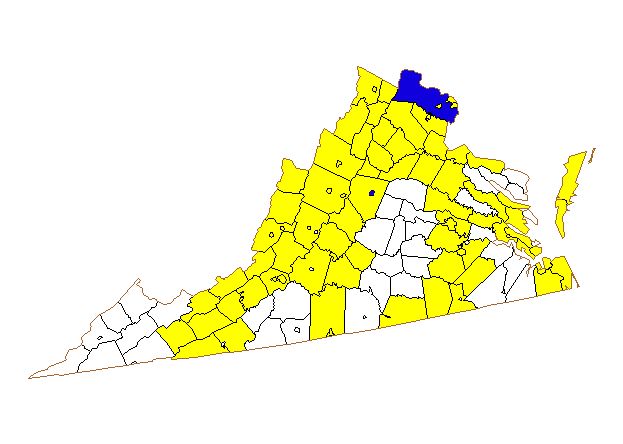 I have been to 90 out of 136 counties (or independent cities) in Virginia.

For a very clear map with the county names, visit Delorme's Virginia Counties page.

Return to my home page.