I have only been in South Dakota once - during my first quick trip (8,500 miles in 17 days) to the West Coast. Unfortunately, by that stage of the trip , my friend Mike and I were not in the mood to enjoy much of the scenery, but we did go to the Heads -- Mount Rushmore, that is.

So far, I have visited the counties shown in yellow.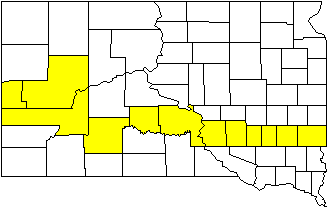 I have been to 12 out of 66 counties in South Dakota.
For a very clear map with the county names, visit Delorme's South Dakota Counties page.

Return to my home page.