Literally, Pennsylvania means William Penn's personal forest, one of two states owned by this leading Quaker. For me, unfortunately, PA has usually just been a beautiful drive along the way to somewhere else. In the early '00s, we did enjoy a couple of visits with friends in West Chester.

In July 2007, we had our first visit to Bradford County by driving along I-86 between Elmira and Binghamton, New York. The highway veers just enough south to have a mile or two in the Keystone State.

So far, I have visited the counties shown in yellow.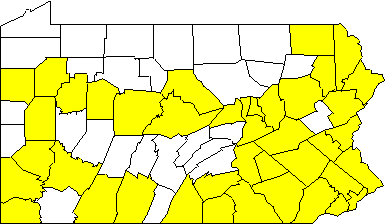 I have been to 40 out of 67 counties in Pennsylvania.
For a very clear map with the county names, visit Delorme's Pennsylvania Counties page.

Return to my home page.