Most of my trips to the Garden State have actually been through the Garden State, although I have enjoyed several visits to the southern part of the state.
So far, I have visited the counties shown in yellow.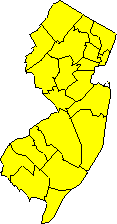 I have been to 21 out of 21 counties in New Jersey.
For a very clear map with the county names, visit Delorme's New Jersey Counties page.

Return to my home page.