Jefferson National Expansion Memorial
I lived in Kansas City for three years in the late 1970s. Because it was the late 70s, I think of KCMO whenever I hear REO Speedwagon. My uncle Donald still lives in the area, and we have had the chance to visit a few times in recent years. Kansas City is on the border with Kansas, and is found mostly in Missouri. It is at the other end of Interstate 70 from St. Louis.

We were in Kansas City for my father to attend Midwestern Baptist Theological Seminary. I was the first - and perhaps only - teenager to complete a three-year non-accredited diploma, which has since been renamed the Diploma of Ministering Wife. The renaming of the program contributes to my sense that the whole experience occurred in a different lifetime. This aerial photograph shows the housing for seminary families. We were in one of the big buildings near the center-west of the photo, the middle of three on the north side of that cul-de-sac.

I attended North Kansas City High School, where I had something increasingly rare - a solid education that included demanding courses in writing, mathematics, foreign languages, and even geography!
Being in the middle of the country, Missouri is often on the way, and we try to take a different route each time we cross it.
So far, I have visited the counties shown in yellow.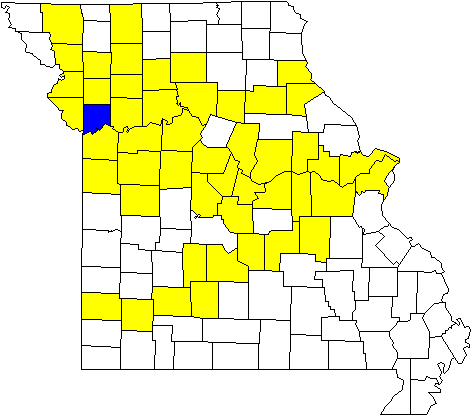 I have been to 48 out of 115 counties in Missouri.
For a very clear map with the county names, visit Delorme's Missouri Counties page.
Do you have a postcard from Missouri? If so, please check out my State Postcard Collection page!

Return to my home page.