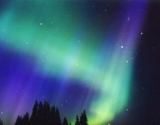 Everybody says Kansas is the most boring state to drive across. I'm never bored driving, so I would disagree, even in the case of Kansas. The first time I witnessed the Perseid meteor shower was driving across Kansas on I-70 at night with my friend and fellow geographer Mike Norris. We were in his 1960 VW with the canvas top wide open - and we were treated to quite a show! Since then, Pam and I have crossed Kansas several times, taking a different route on the old U.S. highways each time.
Kansas is smack-dab in the middle of the Ogallala Aquifer (note my use of technical geographic terminology). The U.S. Geological Survey's Earthshots series includes an excellent demonstration of the impact of ground water use in the area of Gardner, Kansas. The lessons contianed in these images are applicable throughout the Great Plains.
On one trip, we passed through Liberal, Kansas, which claims to be the home of Dorothy. I had often wondered about this peculiar name (Peculiar, Missouri is another story!) -- which seems to be an oxymoron -- so I asked the young clerk at the gas station. I said, "You are probably tired of hearing people ask about this, but where did this town get its name?" She paused, then replied, "I never thought about it, and nobody ever asked." I did find the answer online, of course, at the official Liberal site.

The Wizard of Oz is - of course - the best and most important movie ever made. I recommend the movie to international friends who are fluent in English but feel they are still missing many subtleties of North American language and culture.Learn more at the official Wizard of Oz site or the International Wizard of Oz Club.
National Public Radio included the entire score and all the songs from The Wizard of Oz as part of the NPR 100, its list of the 100 most important American musical works of the 20th century. On this program, Noah Adams talks with John Fricke, author of several books on The Wizard of Oz, most recently 100 Years of Oz, about the music from and the making of Oz. Fricke tells some stories about how Over the Rainbow was nearly cut from the movie after several early audience screenings, how the Munchkin-like sounds were recorded for "Ding Dong the Witch is Dead", and how the "Oz" score is filled with musical IDs for each character, subtly present when they are on screen.
So far, I have visited the counties shown in (brick) yellow.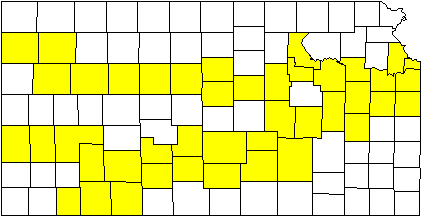 I have been to 43 out of 105 counties in Kansas.
For a very clear map with the county names, visit Delorme's Kansas Counties page.


Return to my home page.