Connecticut is a great example of the geographic concept of situation. I have been to every county in the state, but I have taken very few opportunities to spend any signficant time in the state - so far. I even have three friends living in different parts of the state. They are too far for an afternoon jaunt but too close to make a special trip. So I have seen my friends in Florida more often! We'll get over this soon (we keep saying), and then I'll have more to report on this page.
So far, I have visited the counties shown in yellow.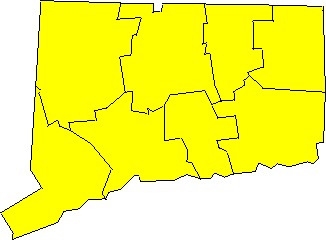 I have been to 8 out of 8 counties in Connecticut.
For a very clear map with the county names, visit Delorme's Connecticut Counties page.

Do you have a postcard of Connecticut?
Return to my home page.