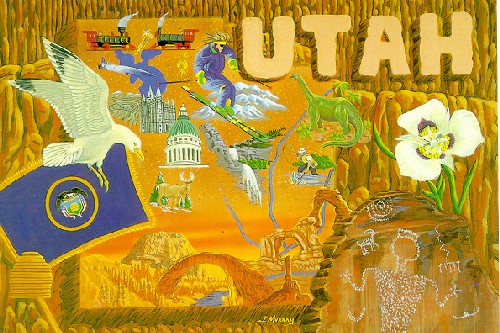 Postcard by Jeff Murray, Mountain West Prints, Salt Lake City
My first visit to Utah (other than a midnight drive through Four Corners - but that is another story) was with a group of fellow geography graduate students from Miami University of Ohio. We were driving rental cars from Oxford, Ohio to a meeting of the Association of American Geographers in Phoenix. I had a wall calendar with a photograph from Arches National Monument near Moab, and I convinced my friends to drive through the night (and a blizzard) from Denver in order to get to the same Arch at dawn. They indulged me, and we were all delighted -- the sight was more beautiful even than I had imagined it.


Since then, I have returned to Utah a few times, including a wonderful visit with a friend of ours in Salt Lake City and environs. We went to a number of places our friend considered "underground," including a coffee shop where everyone was eager to tell us about a couple of young guys who used to frequent the shop. They were now fugitives because they robbed a restaurant and were surprised by the cook and killed him. We went to the restaurant, known as the Green Parrot, which was owned by a friend of our friend. The restaurant had recently been featured twice on America's Most Wanted - once for the murder that took place there and then again because of a very unusual catch - voted the best catch in the program's history - that occured there the night of the first broadcast. Everyone we saw asked if our friend had taken us. Unfortunately, we were poor grad students and did not spring for the "Catch of the Day" t-shirts!
If ever you are in the Colorado Plateau area of southern Utah without hotel reservations, look for one of the many family B&Bs. These are not Victorian mansions that some yuppies have converted; they are simple ranchers with a lot of bedrooms run by Mormon empty-nesters whose houses were built for large families, and who now supplement their income by putting up tourists. We enjoyed our stay with one such family on our drive from the North Rim of the Grand Canyon toward Salt Lake.
So far, I have visited the counties shown in yellow.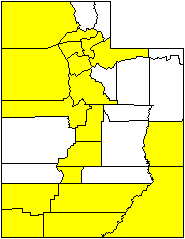 I have been to 18 out of 29 counties in Utah.
For a very clear map with the county names, visit Delorme's Utah Counties page.

Return to my home page.