Aerial view of Mount St. Helens from the north looking over Mount Margaret [US Geological Survey] Image from the Photo Library at Mount St. Helens National Volcanic Monument.

I visited Mt. St. Helens and Mt.Rainier in the same day. My recommendation to other visitors is to take your time at each! They are well worth it.

I have been to Washington state twice - visiting friends and family. I have been to several of the counties in the state that are named for presidents other than our first. I was most impressed on the drive from Tacoma to Spokane, when I learned the true meaning of "rain shadow:" as moist as Washington's western slopes are, the central portion of the state is a true, beautiful desert.

For an excellent geographic discussion of the state, see Our Changing Nature from the Washington Department of Natural Resources. See especially the section on population pressures, which reflects the unusual courage of the DNR commissioner in raising an issue most politicians should discuss but will not.
So far, I have visited the counties shown in yellow.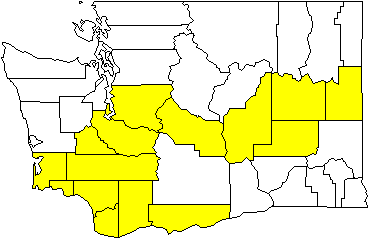 I have been to 15 out of 39 counties in Washington.
For a very clear map with the county names, visit Delorme's Washington Counties page.

Return to my home page.